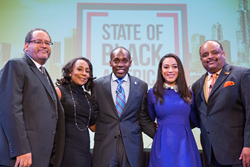 "Understand everything that you do to change our community won't just impact us today. It's going to impact your children's children." - Roland S. Martin
Washington, DC (PRWEB) May 04, 2017
TV One and the National Urban League (NUL) discussed the present and future conditions facing black America Tuesday evening at a Town Hall held at The Howard Theatre in Washington, D.C. Moderated by News One Now Host and Managing Editor Roland Martin, the discussion was framed around findings in the National Urban Leagues' semi-annual report, "The State of Black America." The 2-hour special will premiere on TV One Wednesday, May 31 at 8 PM ET.
Since its first publication in 1976, the NUL's report has become one of the most sought-after guides for thought leadership around racial equality in America across economics, education, health, social justice and civic engagement. This year's report, "Protect Our Progress," examines recent advancements job creation, living wages, voting rights, criminal justice reform, education, health care, and financial literacy, and the current threats to those advancements.
"We want people to know when Black America is strong, America is strong," said National Urban League President Marc Morial. "[The] strengthening of Black America, when it comes to the outcomes for our kids, when it comes to our jobs, when it comes entrepreneurship opportunities, when it comes to rebuilding wealth, it doesn't only make our community strong, it makes the nation strong."
The State of Black America Town Hall panelists included Dr. Michael Eric Dyson, Georgetown University professor and author; Angela Rye, political commentator and analyst; Touré, culture critic and journalist; Symone Sanders, former national press secretary for Senator Bernie Sanders; Jeff Johnson, journalist; Angela Sailor, former director of the RNC's Coalitions Department; and Paris Dennard, GOP Commentator.
Here are some excerpts from the conversation:
On public education:
"What we have in this country is a situation where the public schools are supported by the people who live around them. As long as we have de facto segregation and entrenched poverty in the black community, then we will never have public schools that are powerful. So we either need to unlock the wealth gap, or we need to change the way we fund public schooling in America." – Touré
On economics and diversity:
"When we are economically, upwardly mobile, the entire nation does well. If you have been benefitted by and advantaged by people who work for you, you ought to have enough gumption to stand up and represent for your people without apology because then people understand you're serious and then all the initiatives you're trying to put forth in the name of diversity will be taken seriously. Because if you're not invested in your own people, then no one else will be." – Michael Eric Dyson
On small businesses:
"Martin Luther King delivered the speech in 1967 titled, 'Where Do We Go From Here?' In this speech he tells us we need to lean into our own institutions. Those institutions are black banks, those institutions are black businesses, our community organizations- hunker down and support ourselves. We have to start looking at ourselves and saying, what are we doing that we could be doing differently? How do we support our own institutions? How do we support our own businesses?" – Angela Rye
After a dynamic conversation with the panelists, Moderator Roland Martin summarized the event with a question for the audience.
"The question you have to ask yourself is, 'what are you prepared to do?' The reality is every organization is made up of people. We need people who are engaged – there's something in your life that you're passionate about, that you're willing to fight for, and you must decide exactly what that is," said Martin. "Understand everything that you do to change our community won't just impact us today. It's going to impact your children's children."
TV One viewers can also join the conversation by connecting via social media on Twitter, Instagram and Facebook (@tvonetv) using the hashtag #StateOfBlackAmerica and catch clips and promos on TV One's YouTube Channel.