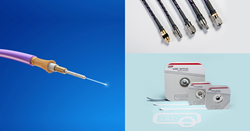 Dundee Technology Park, UK (PRWEB) May 05, 2017
W. L. Gore & Associates, Inc. (Gore) will exhibit new and proven products from GORE® Cables and Materials at IDEF'17 in Istanbul, Turkey, May 9-12, in Hall 5, Booth 501 — the largest defence industry fair in the Eurasia region. Small, lightweight, flexible yet highly durable products that will be on display at this year's fair include:
High data rate cables and high power/signal delivery cables ensure outstanding signal integrity and data transmission safely over longer distances in the toughest military conditions. GORE™ SKYFLEX™ Aerospace Materials are specified by leading military aircraft OEMs because they require no curing and solve many sealing and surface protection challenges for reduced life-cycle costs.
Winner of the 2016 Military & Aerospace Electronics Innovators Awards program, GORE-FLIGHT™ Microwave Assemblies, 6 Series maintain the lowest insertion loss before and after installation, during use, and over time. GORE® Microwave/RF Assemblies, 7 Series, specifically prevent the ingress of water vapor, fuel and other contaminants commonly found in harsh military environments. Known as the purple cable, GORE® PHASEFLEX® Microwave/RF Test Assemblies provide unmatched precision, repeatability, and durability over time.
Headquartered in Istanbul, Transvaro Elektron Aletleri Sanayi ve Ticaret A.Ş., is an authorized distributor of Gore's cables and materials in Eurasia. The company designs and manufactures a wide range of products for the armed forces such as thermal/night vision devices, IR/laser equipment, electronic/electro-optical systems, message terminal units and more.
Visit Gore at the IDEF'17 in Hall 5, Booth 501 to find out more about our revolutionary products engineered to perform reliably now and over time in critical military systems.
About W. L. Gore & Associates, Inc.
Gore is a technology-driven company focused on discovery and product innovation. Well known for waterproof, breathable GORE-TEX® fabric, the company's portfolio includes everything from high-performance fabrics and implantable medical devices to industrial manufacturing components and aerospace electronics. Founded in 1958 and headquartered in Newark, Delaware, Gore employs more than 10,000 associates with manufacturing facilities in the United States, Germany, the United Kingdom, Japan and China, and sales offices around the world. Gore is one of a select few companies to appear on all of the U.S. "100 Best Companies to Work For" lists since the rankings debuted in 1984. The company also appears regularly on similar lists around the world. Learn more at gore.com.
GORE, SKYFLEX, GORE-FLIGHT, PHASEFLEX, GORE-TEX and designs are trademarks of W. L. Gore & Associates.