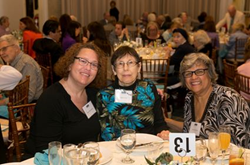 Bronx, NY (PRWEB) May 04, 2017
On April 30, Calvary Hospital hosted its annual Spring Donor Brunch at The New York Botanical Garden.
Two hundred and eighty-six people gathered at the picturesque site to hear about the latest news from about the Hospital. Two family members, Socorro DeJesus and Missy Cohen Pirinea, shared their experience with CalvaryCare for their brother and husband, respectively. Ms. Pirinea's husband and Ms. DeJesus' brother were Calvary patients in 2007 and 2014, respectively.
Afterward, attendees enjoyed the Chihuly exhibit at the NYBG.
The Spring Donor Brunch is a function for The Society of 1899, established by Calvary Hospital to honor the visionary men and women who made gifts to or made a bequest to the hospital. It is held annually at prestigious auction houses throughout Manhattan. Society members are invited to attend an art specialist's presentation, a private viewing of a currently-featured exhibit, and a reception following the program. Brunches in recent years have featured lectures and exhibits of Old Masters paintings, European furniture and decorative arts, and Russian art.
About the Company:
Since 1899, Calvary Hospital has been the nation's only fully accredited acute care specialty hospital devoted exclusively to providing palliative care to adult patients with advanced cancer and other life-limiting illnesses. The voluntary, not-for-profit hospital operates in connection with the Archdiocese of New York. With Bronx and Brooklyn locations that have 225 combined beds and a combined staff of more than 1,000, more than 5,800 patients receive CalvaryCare throughout the greater New York area each year. Calvary has been frequently recognized for its outstanding patient dedication. In 2016 alone, The Joint Commission awarded full accreditation and a Gold Seal of Approval to Calvary, and Press Ganey honored it for the 11th straight year for being in the 99th percentile for patient satisfaction. To learn how Calvary can help, please visit http://www.calvaryhospital.org.