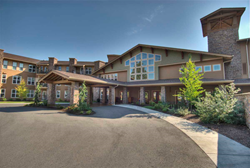 Des Moines, WA (PRWEB) May 06, 2017
To honor 10 years of operations, the Wesley Homes Lea Hill retirement community will have a celebratory gathering on campus on Sunday, May 21 at 1:00 p.m. To RSVP, guests should call 253-876-6000.
"This anniversary is a major accomplishment for us," said Wesley Homes President and CEO Kevin Anderson. "Ten years ago, the Auburn campus set the tone for Wesley Homes. It is our prototype for what we want to do, the type of communities we want to create and how we want to serve seniors."
In 2003, the Wesley Homes Board of Trustees voted to move forward with a campus in Auburn. "We had several Auburn residents tell us they want to be part of Wesley Homes, but they didn't want to leave their Auburn community," said Anderson. "That planted the seed that blossomed into Wesley Homes Lea Hill."
The first groundbreaking took place on July 15, 2005. By May of 2007, 22 Village Homes, 22 Brownstone apartments and Eby Lodge, the social center of the campus with additional residences, were completed. In all, including The Arbor memory care, the campus is home to over 230 residents. The nearly 19 acres includes walking trails in the park-like setting.
By spring of 2016, the campus opened the Lea Hill Rehabilitation & Care Center. Comprised of 34 private suites and one semi-private suite, all with kitchenettes and en suite bathrooms, the rehab and care center is the only not-for-profit center of its kind in greater South King County. The care center completes the continuum of care on the Auburn campus.
"Watching our Lea Hill campus grow and evolve has been truly inspiring," said Wesley Homes Vice President of Marketing and Development Christine Tremain. "I can remember hosting continental breakfasts for our founding residents in our marketing team office. It was just a house on the site, but the residents really got to know each other. They became a community, and they've kept that community spirit alive. Residents from across the campus still gather for continental breakfast on a daily basis."
Over the years, the residents and staff have spread that spirit to the greater community. The campus provides meeting space for several non-profit organizations and participates in community organizations and events. The Children's Therapy Center uses the campus pool twice a week for their aquatics program, and Mary Bridge Children's Hospital has received hundreds of pillowcases, many created by resident seamstresses.
In 2012, for the campus's Community Emergency Response Team (CERT) program, King County Executive Dow Constantine presented the campus with the Executive's Award for Community Preparedness. The recognition is given for outstanding efforts made by volunteer organizations to prepare for and respond to emergencies and to promote safer communities, strengthening King County as a whole.
"The residents came together to help build the care center," said Tremain. "Their engagement was key to making it happen, and they've continued that commitment to community through the CERT program. They've really gotten involved, and the greater community benefits from the residents' and the staff's investment."
Wesley Homes Lea Hill also serves the community as an employer and job training platform. The campus currently employs 117 full- and part-time employees. Many teens have worked on the campus, participated in the job shadowing program or volunteered. They even helped develop a prom for the residents.
"Auburn was absolutely the right choice for Wesley Homes," said Anderson, "and we know the next 10 years will be as exciting as the first."
Established in 1944 and affiliated with the Pacific Northwest Conference of the United Methodist Church, Wesley Homes operates two retirement communities and a home health agency. Wesley Homes Des Moines and Wesley Homes Lea Hill in Auburn provide a network of services for older adults, including independent living, assisted living and housing with services residences; skilled nursing and rehabilitation; and memory care. Wesley Homes Bradley Park in Puyallup, Wesley Homes' third community, is currently under construction. Wesley Homes Home Health provides in-home care and Medicare- Medicaid-certified services to clients in King and Pierce counties.
WESLEY HOMES
Retirement Communities │Home Health Services │ Foundation
815 S. 216th Street • Des Moines, WA 98198 • (206) 824-5000