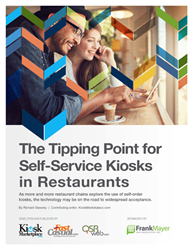 Self-service checkout is the natural progression of QSR and fast casual restaurants.
LOUISVILLE, KY (PRWEB) May 08, 2017
Kioskmarketplace.com, the premier site for news and information about the kiosk and self-service industry, has published "The Tipping Point for Self-Service Kiosks in Restaurants." The special report is sponsored by kiosk manufacturer Frank Mayer & Associates Inc. and can be downloaded here.
Self-order kiosks, where customers place and pay for their orders via a touchscreen as opposed to standing in line at the counter, have been making inroads into the restaurant industry for a few years, and some operators have taken the plunge. Still, widespread adoption has so far not occurred.
The pace of implementation appears to be picking up steam, however. Burger chain White Castle has been testing self-order kiosks at several of its restaurants for the past several years. More recently, Wendy's has announced plans to have the devices in 1,000 locations by the end of 2017. And fast-food king McDonald's says they are going to deploy kiosks in all their stores next year after testing in 500 restaurants.
These and other deployments could give the needed push for other restaurant chains to adopt the technology. This report looks at the current state of the self-order kiosk market, what's helping to drive adoption and what obstacles still need to be overcome.
"Self-service checkout is the natural progression of QSR and fast casual restaurants," said Ron Bower, SVP of retail technology with Frank Mayer & Associates Inc.
"Like other sectors of consumer retail, these restaurants are responding to the connected consumers' request for convenience and personalization," Bower said. "The experience has become 'the brand.' The brands that embrace this idea are successful while those that don't offer convenience, consistency and personalization to the consumer may be lost."
Readers of this report will also gain insight into determining the return on investment for a self-order kiosk deployment, what changes are on the horizon and how to address workers' fears that self-service technology will be used to eliminate their jobs. This will ultimately allow restaurant operators to make a more informed decision about making an investment in self-service technology.
The Tipping Point for Self-Service Kiosks in Restaurants can be downloaded here.
ABOUT THE SPONSORS
Frank Mayer and Associates Inc. is an industry leader in the creative design and manufacturing of branded in-store merchandising displays, interactive kiosks and store fixtures for leading consumer product companies and retailers.
From design, engineering and prototyping through assembly, program rollout and customer service, the company provides an environment of tightly integrated resources allowing for complete program management and flexibility to achieve the client's marketing objectives — start to finish.
Kiosk Marketplace, owned and operated by Louisville, Kentucky-based Networld Media Group, is the world's largest online provider of information about and for the kiosk and self-service technology industries. The content, which is updated every business day and read by business and industry professionals throughout the world, is free.
ABOUT NETWORLD MEDIA GROUP
Founded in 2000, Networld Media Group is a leading business-to-business (B2B) media communications company specializing in digital media, associations and events in the mobile, self-service, digital signage, retail, food service and financial services industries. Online properties include ATMmarketplace.com, BlockchainTechNews.com, DigitalSignageToday.com, FastCasual.com, FoodTruckOperator.com, KioskMarketplace.com, MobilePaymentsToday.com, PizzaMarketplace.com,QSRweb.com, RetailCustomerExperience.com and ChurchCentral.com. Networld event properties include the Fast Casual Executive Summit, CONNECT: The Mobile CX Summit, Interactive Customer Experience Summit, Bank Customer Experience Summit and the Restaurant Franchising & Innovation Summit. Networld also operates the ICX Association. Its newest offering, Networld Press, provides clients with an all-in-one website solution featuring custom website design and ongoing editorial, content strategy and website updates.
###