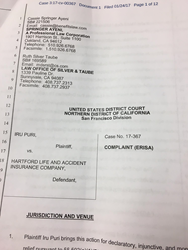 Ms. Puri alleges in her Complaint that she was wrongfully denied her ERISA disability insurance benefits after Hartford initially approved her claim
San Francisco, CA. (PRWEB) May 04, 2017
United States District Court Judge Edward Chen (Northern District of California) held a case management conference today in the matter of Iru Puri v. Hartford Life and Accident Insurance Company, Case No. 17-cv-00367. Cassie Springer Ayeni, of the Bay Area based Springer Ayeni, A Professional Law Corporation, represents the Plaintiff.
Ms. Puri alleges in her Complaint that she was wrongfully denied her ERISA disability insurance benefits after Hartford initially approved her claim effective 2011. Ms. Puri was a long-time employee of Oracle who alleges she is unable to work due to unrelenting upper extremity and back/neck pain, including cervical disc degeneration.
In the Complaint, Ms. Puri asserts that she supplied proof of disability to Hartford, including medical records and letters from her physician, a Functional Capacity Evaluation that found her incapable of sedentary work, and an Independent Medical Evaluation at her own expense performed by a physician often used by Hartford to perform IMEs, Dr. Suresh Mahawar. The Complaint alleges that Dr. Mahawar opined that Ms. Puri "has been totally and permanently disabled since 6/14/14 due to her cumulative trauma affecting her cervical spine, lumbar spine, shoulders, elbows, and wrists."
According to Ms. Springer Ayeni, Judge Chen set a hearing date in December 2017 and provided the parties with 90 days to mediate the case. Ms. Springer Ayeni encourages others with similar ERISA disability benefit claims to contact her office at http://www.benefitslaw.com or cassie(at)benefitslaw(dot)com.