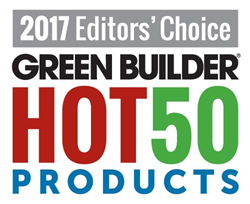 Lake City, Colo. (PRWEB) May 05, 2017
Green Builder Media's annual special awards issue narrows the field of sustainable products to the best and brightest put out by companies in the business of home building. From foundations to appliances to smart home technology and everything in between.
This year, Green Builder was on the hunt for big thinkers. "Not every product in our list is American made," notes Green Builder Editor-in-Chief Matt Power, who has historically expressed a preference for U.S.-produced products. "When our editorial team chooses the Hot 50, we frankly don't care about the country of origin, We care about big thinking and innovation. Albert Einstein was German. Elon Musk was born in South Africa. So what? I do want to know, however, whether a product will be available to U.S. builders and architects. That's important."
Power, who has bemoaned lackluster product roll-outs from manufacturers in the past few years, was excited by this year's collection of products. "We really enjoyed talking with the tech guys at Design & Construction Week in Orlando about product innovation," he says. "Across the board, they're doing some great work. For example, Huber's ZIP panels now come in an insulating R-sheathing version. Moen has developed a water-saving "teenager-proof" shower control."
"This is one of the most uncompromised Hot 50 lists we've ever seen—full of genuine strides toward greater efficiency and net-zero living.," Power says. The green products that will be gracing the most cutting-edge green homes over the next few years can be found at http://www.greenbuildermedia.com/hot50-2017.
To learn more about Green Builder's Hot 50 Products, contact Green Builder Media Chief Development Officer, Cati O'Keefe, at cati.okeefe(at)greenbuildermedia(dot)com.
About Green Builder Media
Green Builder® Media, LLC is the nation's leading media company focused on green building and sustainable living, affecting positive change by providing inspirational information to over 200,000 progressive building professionals and 38 million consumers who are interested in sustainable living. With a comprehensive suite of content marketing, digital, social, and print media options, high-profile demonstration projects, market research, and live events, Green Builder Media offers a blend of visionary and practical information covering a broad spectrum of sustainable living topics, including Internet of Things, smart home technologies, energy efficiency, water conservation, indoor air quality, resilient housing, renewables and clean transportation. For more information, visit http://www.greenbuildermedia.com.