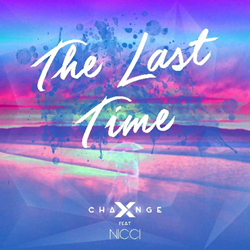 I was working on the chords and instrumental ideas...while Nicci worked on the vocal melodies. We went back-and-forth rewriting until we were happy, and at one point, something magical just clicked! We cut the vocal that same night.
New York, NY (PRWEB) May 05, 2017
Captivating. Inviting. Piercing. Like a heat-seeking missile born of Detroit's fiery sparks and clashing steel, X-Change zeroes in on what makes an electronic dance music (EDM) song pop with precision and grace. X-Change featuring Nicci's "The Last Time" is such a song, and it's out now.
The Radio Edit of "The Last Time" starts with the signature synthesized piano chords heard on the recent X-Change single, "Leaving You (In The End)" featuring Kylie Odetta, before launching immediately into Nicci's vocal. In a refreshing departure from the majority of today's EDM songs, Nicci's vocal chops are highlighted as she opens up and shows off her range in this dynamic pop song. The composition is rock-solid and very catchy. Notice the quiet spaces in between the finger-snaps as X-Change shows control via restraint. What's notable is that this song doesn't try too hard attempting to be a big-room festival track. It's more of a thoughtful song, and that in and of itself is refreshing in the current pop music climate. The lyrics pull you in with, "Because everybody wants to feel something / Just living on a prayer / All or nothing." The chiming, high synths sound bell-like during the chorus. X-Change proves it's possible to create a song that's pretty without being saccharine sweet. The Radio Edit is tight and satisfying.
The Extended Mix takes much longer on the intro as X-Change builds suspense with major chords and a heavy, hard-hitting 4/4 beat before Nicci's vocal finally enters. Nicci's agile voice makes listeners sit up and take notice. Lovely are the high bell synths that twinkle on the chorus and act like a counterweight to the topline of Nicci's lead vocal. "The Last Time" is a song with significant potential to become an earworm.
X-Change (real name, Paul Mattis) is an American electronic dance music DJ and producer currently based in Los Angeles. Boasting a hefty online following of over 150,000 plays-per-track on Soundcloud and Spotify, Mattis holds a Master's Degree in Electrical Engineering from the University of Michigan. For years, Mattis served as lead audio development engineer at General Motors in Detroit, honing his expertise in acoustics engineering. Eventually, Mattis awoke to an epiphany that music was where his soul lies and he vehemently tackled the goal of creating an artistic version of himself. The DJ/production alias, X-Change, was born. With grit and fierce determination, X-Change was soon DJ'ing shows from New York City to San Francisco – including at Detroit's widely revered Movement techno festival – before moving full-time to Los Angeles where he is now based. Music lovers can hear more on X-Change Theory Radio, the weekly podcast available on iTunes, as well as on various other FM and digital radio networks. In the past year alone, X-Change has seen tremendous growth with support from global DJ/producers like Hardwell supporting his recent single, "Can't Hear A Word You're Saying" with Varun, and over 425,000 plays on Spotify for X-Change's track, "Shirt Off."
Said X-Change of his collaboration with the singer/songwriter, Nicci, "Nicci and I wrote everything at the same time in the studio in Los Angeles when we made this song. I was working on the chords and instrumental ideas with Shayon, the third co-writer of this song, while Nicci worked on the vocal melodies. We went back-and-forth rewriting until we were happy, and at one point, something magical just clicked! We cut the vocal that same night and 'The Last Time' was born. I really hope people like this song as much as I do."
Listen to X-Change featuring Nicci, "The Last Time," here: https://lnk.to/TheLastTime
For information on X-Change, Andrew Rayel, MaRLo, Markus Schulz, Aly & Fila, Judah, Fatum, RedOne, Price & Takis, Assaf and artists like Armin van Buuren, contact EMILY TAN Media Relations (U.S.), +1(917) 318-3758, EmilyEmilyTan(at)aol.com. Follow EMILY TAN Media Relations on Twitter @EmilyEmilyTan and LinkedIn http://www.linkedin.com/pub/emily-tan/4/342/70b.
# # #