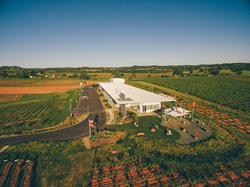 Plymouth, CA (PRWEB) May 07, 2017
The team of Atelier Melka, led by Philippe Melka, has been appointed winemaker at Andis Wines, an up-and-coming winery located in Amador County in the heart of California's Sierra Foothills. Melka joined Andis Wines in December 2016.
Philippe said the opportunity to work with the soils and varietals of Amador was too good to pass up. His team includes Director of Winemaking Maayan Koschitzky and Assistant Winemakers Meghan Zobeck and Marie Laure Ammons.
Atelier Melka also makes wine for Dana Estates, Vineyard 29, Tusk and many others. Originally from Bordeaux where he earned a Master's degree in Agronomy and Enology, Philippe is known as the "titan of terroir". His first job was at the esteemed Chateau Haut-Brion and his resume includes a stint making wine at Chateau Petrus. According to Robert Parker's The Wine Advocate, Melka was named as one of the top wine consultants in the world.
About Andis Wines
Opened in November of 2010, Andis Wines is a modern boutique winery located in the historic wine country of Amador County in California's beautiful Sierra Foothills. We strive to seek out the best fruit from the best vineyards in the Sierra Foothills to craft delicious wines with balance, character and complexity. Our building is a state-of-the-art winemaking facility built with a "green" design. The spacious tasting room offers picturesque vineyard views of surrounding Amador wine country and comfortable picnic areas to spend time with family and friends. Our contemporary design, gracious staff, and commitment to making superior wines makes Andis a must-stop on your Amador wine tasting adventure. The winery is located at 11000 Shenandoah Road, Plymouth, CA 95669, and open daily from 11am-4:30pm.
For questions, contact Jenae Plasse at 209-245-6177.
http://www.andiswines.com