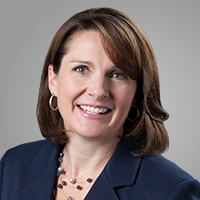 Chicago, IL (PRWEB) May 08, 2017
Search, recruitment outsourcing and consulting services firm TalentRISE today announced that Allicia Hahn has been promoted to Partner.
"I am very pleased to officially welcome Allicia as a Partner in the firm," said Rick Gray, TalentRISE chief executive officer. "Since arriving nearly two years ago, she has contributed tremendous value to our business and long-term growth objectives, and as important, sets an enviable leadership example for our organization, with clients and across the recruitment industry."
Hahn joined TalentRISE in June of 2015 as Managing Director in the Retained Search practice to build client relationships by delivering tailored recruitment solutions to the human resources, marketing, consumer products, supply chain manufacturing and information technology sectors. She also has assumed a leadership role for the firm's Operational Excellence initiative in conjunction with its recruitment process outsourcing (RPO) market entry and the addition of two major national retail clients.
Prior to TalentRISE, from 2011 to 2015, Allicia served as Executive Vice President of the JobPlex division of DHR International, a leading global search firm, where she drove full lifecycle recruitment services and business development.
Before that, Hahn was Vice President of Talent Management at HUB International, a $1 billion-plus privately held insurance brokerage with 4,500 employees across North America, where she led the development and alignment of recruiting, performance and succession management strategies and systems.
Previously, at Pepsico, Hahn held a variety of roles over 10 years leading the development and execution of global talent management, talent development and talent acquisition programs for a $7 billion global division that bottles and distributes the entire portfolio of market leading beverage brands.
ABOUT TalentRISE
TalentRISE provides consultative, highly tailored recruitment solutions to meet an organization's most pressing talent acquisition challenges. The firm's core service offerings include retained executive search with built-in 100-day assimilation and on-boarding program; a flexible, scalable recruitment model for all hiring needs beneath the executive level, from key, time-sensitive functional roles to longer-term, enterprise recruitment process outsourcing (FlexRPO); and talent acquisition consulting to bring industry best practices to a client's strategy and processes. TalentRISE takes a hands-on, partner-led approach, specializes in serving middle market industry innovators, and possesses particular depth in the professional services, banking and financial services, healthcare, technology and consumer/industrial manufacturing sectors.
Contact: Amber Metelka (ambermetelka(at)talentrise(dot)com; 312-878-4138)