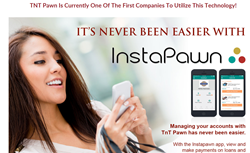 Now pawn stores can say 'Download our mobile app and shop or make payments online 24/7 at our pawn store.'
LAS VEGAS, NEVADA (PRWEB) May 06, 2017
Bravo Pawn Systems, the World's Best Pawn Software Platform, has earned a 4.9 Star (out of 5.0) Rating for InstaPawn, the industry's 1st and ONLY mobile app. InstaPawn is the most innovative development in the Pawn Industry that continues to amaze pawnshop owners and customers alike. The interactive and powerful interface of the InstaPawn app provides the convenience and customer service that customers demand.
InstaPawn is the Future of the Pawn Industry
InstaPawn is the most important product to ever hit pawnbrokers and their customers, and the reviewers at TechWibe have recognized InstaPawn with a 4.9 Star Rating. Now pawn stores can say "Download our mobile app and shop or make payments online 24/7 at our pawn store."
Here are some of the exciting new features in InstaPawn:

Shopping 24/7: Shopping has never been easier. Entice your customers to purchase with Coupon Promotions, increase loyalty and sell your merchandise faster.
Lay-Away Payments: Customers love the pawnshop lay-away, and now it's easier with fewer cancellations. Bravo gives you flexibility to set up any term and payment frequency. And customers get gentle reminders on their mobile phone to make a payment.
Mobile Notifications: The #1 reason pawn customers default on their loan is because they forget. They pawned because they wanted it back. Everyone wins when the customer pays. Make it easier and more convenient.
Company Branded Mobile: InstaPawn can be customized for any pawn store to build their brand.
Today's Customers Demand Convenience
Nowadays, pawn operators are struggling and they all say the same thing: "The industry is changing – customers aren't coming in as frequently and they are shopping online." With Pawnbrokers reporting decreasing retail sales as online competition grows, Bravo's Mobile App – InstaPawn - is clearly the answer in this New World of Online Shopping, eCommerce and Mobile.
In a technological society that demands immediate gratification, InstaPawn is a product whose time is long overdue. Most people forget the iPhone came out in 2007 – over 10 years ago. Mobile Shopping is not the future, it's the present, and now pawn stores have the opportunity to get on-board with InstaPawn to thrive and survive in the New World of Mobile Commerce.
Read the entire InstaPawn Review (4.9 Star Rating) here:
https://www.techwibe.com/instapawn-review-the-master-app-for-pawnbrokers/