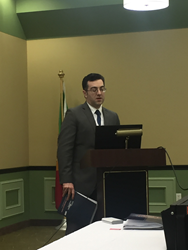 It's always exciting to meet in person with area business people. We typically learn as much from them as they do from us.
Los Angeles, California (PRWEB) May 08, 2017
On May 3, Woodland Hills-based digital marketer Cyberset teamed up with Google to help small and large businesses grow online during National Small Business Week, April 30 - May 6th. Local entrepreneurs and business leaders were able to take advantage of a free workshop providing information on a range of topics including such matters as getting found online by potential customers and the right way to grow a business with the help of Google Adwords. This afternoon workshop took place at the Winnetka Convention Center on Vanowen Street and was attended by a number of local business leaders.
Speaking about the event, Cyberset Research and Development Manager Omid Samadi said, "We were delighted by the community's response to our Boot Camp event, and we look forward to having more events like this in the near future. It's always exciting to meet in person with area business people. We typically learn as much from them as they do from us."
The event was part of a national effort to help small businesses across the United States in celebration of Small Business Week. "When customers can support local businesses, entire communities benefit. In fact, communities with robust local listings and a strong web presence can build a stronger local economy," said Emily Harris, Manager of Google's Get Your Business Online program. "In small communities, this could be worth up to +$300k a year; in large cities it can be up to +$7m1."
About Cyberset:
Cyberset Corp is a respected leader in Internet marketing, an area that has become crucial to the success of all companies in all fields. The firm's team is comprised of top-tier Internet marketing specialists, graphic designers, writers, and developers, and it has transformed countless new and moderately successful websites into bustling marketing powerhouses. Cyberset focuses on producing quality content that is fully optimized, which means that its clients rank higher on major search engines than their competitors. As a Premier Google Partner, Cyberset is dedicated to the highest standards of quality and performance on behalf of all our clients.
About National Small Business Week:
Since 1963, the President of the United States has issued a proclamation announcing Small Business Week each year, which recognizes the critical contributions of America's entrepreneurs and small business owners.
For further information about how Cyberset can build a business's online marketing power, call today for a free consultation at 818-962-0730, or contact the company online at http://www.Cyberset.com.