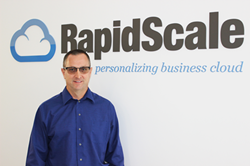 I am very excited about the opportunity to join and participate in the growth happening at RapidScale.
Irvine, CA (PRWEB) May 11, 2017
RapidScale, a leader in managed cloud services, welcomes Kevin Shannon to the team as Operations Manager. Kevin is based in Irvine, CA and is responsible for compliance and large integration projects. He comes to RapidScale with expertise in implementing strategies to enhance operational standards and quality, and in aligning processes, structures, systems and resources with an organizations' vision and business objectives.
Prior to joining RapidScale, Kevin was Senior Director of Operations at Level 3 Communications. He steered operations and engineering teams in rising to the challenge of transforming the department, defined strategies and implemented structures and processes, and rebuilt internal and external partnerships. Kevin was also Vice President of Operations at PAETEC Communications/Windstream Communications, where he worked for 16 years. Kevin holds an MBA in Finance from Rochester Institute of Technology.
"I am very excited about the opportunity to join and participate in the growth happening at RapidScale." says Kevin. "My past experience with the leadership team leaves me no doubt there is an entrepreneurial spirit here that is driven to grow a business focused on the customers and employee success. I look forward to putting my past operations management experience to work here helping structure the operations at RapidScale as we continue to grow."
RapidScale CEO Randy Jeter says "I can't be more excited about this hire. Kevin Shannon is an amazing asset to have at RapidScale. I personally saw the work he did at PAETEC in building and supporting the explosive growth of a then market-leading company. The company is truly lucky to have such a great person and asset joining the team as a leader."
About RapidScale
RapidScale, a managed cloud services provider, delivers world-class, secure, and reliable cloud computing solutions to companies of all sizes across the globe. Its state-of-the-art managed CloudDesktop platform and market-leading cloud solutions are the reasons why RapidScale is the provider of choice for leading MSOs, VARs, MSPs, Carriers and Master Agents throughout the United States. RapidScale is not only delivering a service but also innovating advanced solutions and applications for the cloud computing space. RapidScale's innovative solutions include CloudServer, CloudDesktop, CloudOffice, CloudMail, CloudRecovery, CloudApps, and more. For more information on RapidScale, visit http://www.rapidscale.net.
Media Contact
Sommer Figone | Marketing Manager
Marketing(at)rapidscale.net