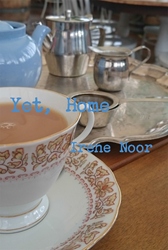 WORTHINGTON, Ohio (PRWEB) May 08, 2017
Author Irene Noor has released her debut novel, "Yet, Home," a compelling fiction that tells the story of two generations: Tayib, a recently retired Egyptian man, and daughters Layla and Dalia, one of whose stories takes place in Cairo, while the parallel life of the other is lived out in Australia.
While Tayib is a university student, a seemingly small incident one morning puts him on a path to marry a woman named Aida and eventually emigrate to Australia and have their daughter Dalia. However, if the small incident had not occurred, Tayib would finish his studies in architecture, marry a woman named Yasmine, and continue to live in Cairo where they would have their daughter Layla. In both stories, his daughter, like Tayib, is questioning the path she has chosen.
The story examines the emigration experience for Egyptians living in a new country and what it means to be a stranger in a new place, and how, if ever, it becomes home. Through Dalia, Layla, and their mothers, the story also highlights the decisions women face when balancing a family and career, what sacrifices they are willing to make, and to what end.
"Yet, Home" is two parallel stories and switches between the two versions of Tayib's life as his family's story takes the reader from Cairo and Australia to London and even Portugal in search of answers.
"Yet, Home"
By Irene Noor
ISBN: 978-1-365-52241-3
Available at Amazon and the Lulu Bookstore
About the author
Irene Noor is a global nomad who has lived primarily in the United States since high school. Noor was inspired by her own life journey and by other emigration stories to write "Yet, Home." This is her debut novel and she is currently working on her second book, a historical fiction. Noor enjoys traveling with her family and resides in Worthington, Ohio with her husband and three children. To learn more about Irene Noor and her writing, please visit http://www.orangeskyandmoon.org and her Facebook fan page.
For Review Copies & General Inquiries Contact:
LAVIDGE – Phoenix
Lauren Dickerson
ldickerson(at)lavidge.com
480-998-2600