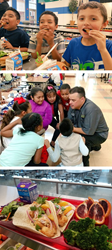 Joe is a pioneer. He pushes his staff daily to get better, to undergo training, to create new dishes in his test kitchen, and to inspire other schools to take school food to a new level.
GREENVILLE COUNTY, S.C. (PRWEB) May 05, 2017
Serving 76,000 K-12 students two healthy meals a day—every day—across 101 schools is no easy feat. In Greenville County, S.C., Joe Urban is leading a team of 750 foodservice professionals in creating delicious, nutritious, awe-inspiring meals that kids love. The Seafood Nutrition Partnership believes that makes him a School Lunch Hero.
Between preparing healthy food, adhering to strict nutrition standards, navigating student food allergies, and offering service with a smile, nutrition professionals have a lot on their plate. To celebrate their hard work and commitment, the School Nutrition Association and partners nationwide are marking May 5 as School Lunch Hero Day.
Joe Urban, director of Food and Nutrition Services for Greenville County Schools, oversees an innovative school foodservice program that serves more than 14 million nutritious school meals annually.
He and his staff are on a mission to reinvent school food with initiatives including scratch and speed-scratch cooking, serving breakfast in the classroom, offering Universal Free Breakfast to all students, serving fresh fruit, removing all highly processed chicken products from their menus, serving high-quality seafood, implementing salad bars with scratch-made soup in all schools, and using innovative methods like food trucks to provide free meals to children in need throughout the summer.
"Joe's school foodservice program is truly a model for how great school food can really be," said Chef Johnny Carino, who has worked with Urban in the test kitchen to model new recipes.
Urban grew up around seafood, both catching and cooking. Proudly, in February 2017, he was chosen to be the first K-12 ambassador for SNP, sharing the importance of including seafood in school meals.
Urban says he is a "seafood-loving school foodservice director that just happens to also be an ambassador for the Seafood Nutrition Partnership. So, I am naturally inclined to introduce as much high-quality seafood as possible to our school menus."
Currently in the process of developing a seafood solicitation for the upcoming 2017-18 school year, Urban plans to offer high-quality seafood at least once a week to the 76,000 students in Greenville County Schools. Some of the seafood items that will be on the menus will include wahoo, salmon, mahi mahi, Alaskan pollock and rockfish.
"We believe this will be the highest quality and most diverse seafood menu offerings throughout the K-12 school foodservice industry," he says.
"It is important to me to introduce more seafood in school meals because of the many health benefits associated with eating seafood," Urban believes. "Seafood is a low-calorie, high-protein, heart-healthy food packed with beneficial omega-3s.
"Because of the many health benefits of seafood, current Dietary Guidelines from the U.S. Department of Health and Human Services and the U.S. Department of Agriculture recommend that Americans increase their seafood intake to at least twice a week. By offering great seafood options at least once a week in all schools we will be doing our part to help our students meet these recommendations."
Just one example showcasing how Urban is improving school food quality while also enriching students' lives. In March, he hosted a chef-inspired event at one of the elementary schools. Chef Anthony DiBernardo, who slow smoked a pig for delicious pulled pork, and Carino, who created a seafood Low Country Boil with Carolina shrimp, andouille, corn and potatoes, proudly fed about 800 students and parents while Urban led the 6- to 10-year-old students in education about local food, the history of Carolinian cuisine, and the stories that go with this deep culture.
"Joe is a pioneer," Carino says. "He pushes his staff daily to get better, to undergo training, to create new dishes in his test kitchen, and to inspire other schools to take school food to a new level."
Get the details about School Lunch Hero Day at http://www.schoollunchheroday.com. To learn more about the incredible things happening with school food in Greenville County Schools follow them on social media:

Seafood Nutrition Partnership (SNP) is the leading 501(c)3 non-profit organization in the U.S. building awareness of the health and nutritional benefits of seafood. SNP is addressing the country's public health crisis through education programs that inspire Americans to incorporate more seafood and omega-3s into their diets for improved health as per USDA Dietary Guidelines. In October 2015, SNP launched a national public health education campaign. For more information, visit SeafoodNutrition.org.
The School Nutrition Association (SNA) is a national, non-profit professional organization representing 55,000+ school nutrition professionals across the country. Founded in 1946, SNA and its members are dedicated to making healthy school meals and nutrition education available to all students. To find out more about today's school meals, visit http://www.schoolnutrition.org/SchoolMeals.