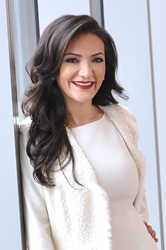 Be Crazy Good
Dallas, Texas (PRWEB) May 05, 2017
The Women Presidents' Organization (WPO), in partnership with American Express, has announced that Pinnacle Group is once again one of the fastest-growing women-owned companies in the United States. This year marks the third consecutive year Pinnacle Group has been named to the WPO's 50 Fastest Growing Women-Owned/Led Companies List™, sponsored by American Express. Named this year's second fastest-growing company, Pinnacle Group took the top honor as the country's fastest-growing women-owned/led company in 2015 and was second-fastest in 2016.  Of the over 11 million women-owned businesses in America, Pinnacle Group has continued to stand out due to its substantial revenue growth over the last five years.  During this time, Pinnacle Group has seen revenue quadruple and has exceeded $1 billion dollars in gross revenue, under Chairman and CEO Nina Vaca's capable leadership.
"It is an honor and pleasure to recognize Pinnacle Group as one of the 2017 50 Fastest Growing Women-Owned/Led Companies™ in America, sponsored by American Express. It's a testament to the dynamic leadership of CEO Nina Vaca that Pinnacle Group has placed first or second for the third year in a row," said Dr. Marsha Firestone, President and founder of the Women Presidents' Organization. "Women business owners and leaders are vital to enterprise growth and a thriving economy. Under Nina, Pinnacle Group has grown to become a world-class entrepreneurial success story. Both Nina and Pinnacle Group are inspiring women to pursue their entrepreneurial dreams."
"It's thrilling for Pinnacle Group to be recognized among this year's impressive group of companies. I commend the WPO and American Express for their wonderful work in supporting our success," said Vaca. "Women are essential to our country's economic growth.  We not only drive trillions of dollars of consumer spending but also contribute over 1.5 trillion to the U.S. economy through women-owned enterprises. When we thrive, America thrives. We are a key part of the rising tide of success uplifting our companies, communities, and country."
Pinnacle Group was founded by Vaca in 1996 as a niche IT solutions provider and has since grown to provide industry-leading workforce solutions and high-end IT services to iconic global giants.  Pinnacle Group has previously been recognized as the WPO's first and second 50 Fastest Growing Women-Owned/Led Companies™ in 2015 and 2016 respectively and as one of America's fastest-growing companies on the lists of Inc. 500/5000 and Staffing Industry Analysts for over a decade.
ABOUT PINNACLE GROUP
Pinnacle Group is a leading provider of information technology services and workforce solutions.  Founded in 1996, Pinnacle Group includes Pinnacle Technical Resources, Inc., its flagship information technology services company serving the Fortune 500.  Pinnacle Group has become one of the largest providers in its industry with thousands of IT professionals providing services across the U.S. and Canada.  For more information, please visit http://www.pinnacle1.com. Follow Pinnacle Group on Twitter @PinnacleHQ and like Pinnacle Group on Facebook @PinnacleTechnicalResources.
ABOUT NINA VACA
Nina Vaca is one of the country's most celebrated entrepreneurs.  She has been an Ernst & Young Entrepreneur of the Year, an NBC Innovator, and a Goldman Sachs Most Intriguing Entrepreneur.  For the past ten years she has been named one of the 101 Most Influential Latinos in America.  Vaca serves on three Fortune 1000 boards.  She is also a committed civic leader dedicated to helping build businesses and communities globally.  As a White House appointed Presidential Ambassador for Global Entrepreneurship, she travels the globe sharing her story and inspiring the next generation of entrepreneurs.  Vaca is Chairman Emeritus of the United States Hispanic Chamber of Commerce, investing in over 4.2 million Hispanic-owned businesses.  She also serves as Chairman of its Foundation, which houses At the Table, an initiative she founded to connect women with the resources and recognition needed to reach the next level in business and leadership.  A lifelong advocate for mentorship, Vaca mentors both established and upcoming women entrepreneurs and leaders. For more information, please visit http://www.ninavaca.com. Follow Vaca on Twitter @ninavaca and like Vaca on Facebook @nina.g.vaca
ABOUT WOMEN PRESIDENT'S ORGANIZATION
The WPO is the premier peer advisory organization connecting women who own multi-million dollar companies.  In monthly meetings across six continents, chapters of 20 women presidents from diverse industries invest time and energy in themselves and their businesses to drive their corporations to the next level. Local WPO chapters are coordinated by a professional facilitator and meet monthly to share business expertise and experience in a confidential setting. For more information, call 212-688-4114 or visit http://www.womenpresidentsorg.com.  Follow WPO on Twitter @womenpresidents and like WPO on Facebook @TheWPO.