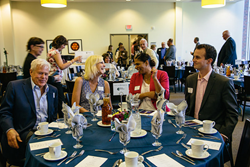 Spring Arbor, Mich. (PRWEB) May 06, 2017
Spring Arbor University will host the third annual Evening at the Arbor on Friday, May 5, at the Spring Arbor, Michigan, campus. The evening begins at 6 p.m. with a reception in the Fieldhouse, followed by dinner at 7 p.m. in the same location.
This year's event will highlight the impact made on the local community by SAU students and alumni, with special attention given to the multiple partnerships forged between SAU athletics and local non-profit organizations.
Alumnus Dean Lockwood will deliver the keynote address. Lockwood serves as the assistant coach for the University of Tennessee women's basketball team, and coached under legendary coach Pat Summitt before she passed in 2016.
In keeping with the focus on athletics, several interactive features will be available for guests to enjoy and learn from, including a golf simulation and bowling instruction. Others will focus on community service, academics, and faith integration, all of which will communicate to participants the mission and purpose of SAU.
"We want to inform and inspire communities across Michigan," said Dr. Doug Wilcoxson, executive vice president. "Amazing things are happening at Spring Arbor University. By providing an interactive and engaging evening for business, political, educational, spiritual and medical leaders of the community, we can share the impact our students and alumni have on their communities, and the transformation that accompanies it." Wilcoxson will serve as emcee at Evening at the Arbor.
Tickets to the event are $95 apiece, and limited in availability. All proceeds support SAU student scholarships. For more information, please contact Sherry Keeler at sherryk(at)arbor.edu or 517.750.6396.