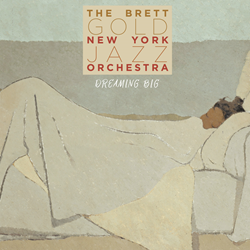 I found out that you can stop playing music, but it's still there circulating in your head.
Richmond, CA (PRWEB) May 05, 2017
The June 16th release of "Dreaming Big" (GoldFox Records), which marks the recording debut of the Brett Gold New York Jazz Orchestra and features the compositions of Brett Gold, illuminates a most intriguing jazz odyssey.
A star trombonist in high school in his native Baltimore, Gold was steered away from a music career by his parents as well as his trombone teacher, of all people. Gold became an attorney and went on to achieve formidable success in the field of international and corporate tax law. But 25 years into his legal career, Gold changed course and reestablished contact with his musical muse.
"Dreaming Big" is remarkable not only for its very existence but also for the striking sounds it offers. A tour de force, the music ranges from 12-tone melodies to playful Monkisms to a stirring political statement. While the album introduces one of jazz's most challenging new instrumental voices, at the same time its warmth, humor, and accessibility convey an easy sophistication one would associate with an artist of far greater experience.
Gold enlisted first-call players from New York's jazz, studio, and Broadway scenes to produce the recording, including saxophonists Charles Pillow and Tim Ries, trumpeter Scott Wendholt, trombonist John Allred, bassist Phil Palombi, and drummer Scott Neumann.
Many jazz composers and arrangers, including Gold, cite Gil Evans and Bill Holman as influences. But Gold's affinity for the odd time-signature music of the late Don Ellis is reflected in a number of pieces on the CD. Among the compositions on "Dreaming Big," the Middle Eastern-themed "Al-Andalus" (featuring a virtuosic turn by trumpeter Jon Owens) is partly in 11/4 and partly in 5/4. "That Latin Tinge" is a 7/4 mambo, not the usual time signature for a salsa piece. Even the fairly straightforward "Stella's Waltz" can trip someone up with its occasional judiciously placed bar of 5/4. And then there's "Nakba," the powerful 11-minute finale, which was composed partly with Gold's Moroccan sister-in-law in mind. The song is named after the Arabic word for "catastrophe," used by the Palestinians to describe the Arab-Israeli War of 1948. Featuring Ries on soprano saxophone, it traces the tragic history of the Israeli-Palestinian conflict.
"I found out that you can stop playing music, but it's still there circulating in your head," Gold says of the years when he was not involved in music full-time. After finishing high school a year early, he attended the University of Rochester as a double major in history and film studies (Magna Cum Laude and Phi Beta Kappa) and continued his music studies at the Eastman School of Music where he played with one of its nationally recognized jazz ensembles. But he soon placed his jazz activities on the back burner, earning a J.D. from Columbia University Law School (1980) and an LL.M in tax law from New York University Law School (1983).
When Gold returned to jazz, he had no problem coming up with ideas for compositions—his brain was full of them—but his sabbatical from music left him unprepared to execute those ideas both on paper and on his horn, which he hadn't touched in 10 years. He first sketched his pieces out and hired professional musicians to record demo-like CDs of them. Then, studying privately with distinguished teachers like Pete McGuinness, Neal Kirkwood, and David Berger, he learned how to write complex compositions for big band.
Eventually, in 2007, Gold was accepted into the esteemed BMI Jazz Composers Workshop, under the direction of Mike Abene, Jim McNeely, and Mike Holober. During his tenure there, he developed a book of more than two dozen arrangements, of which 11 of the best appear on Dreaming Big.
"As a member of BMI, I was pushed to write longer, more abstract orchestral pieces, something I resisted," he says. "Instead, I looked to the way Duke Ellington wrote for his band—his best pieces were seldom more than three to five minutes long. I also admired his idea of writing for individual members of the band."
Over the years, Gold has absorbed and strongly personalized any number of influences, some more than just musical. A study in diminished chords featuring clarinets and flutes, "Theme from an Unfinished Film" reveals his debt to what he calls the "internalized lyricism" of movie composers such as Bernard Herrmann, David Raksin, and Ennio Morricone. "Exit, Pursued by a Bear (Slow Drag Blues)," was inspired by Shakespeare's most famous stage direction. And "Al-Andalus" was originally inspired by the hopes raised by the Arab Spring.
Gold does not play in the trombone section on "Dreaming Big." "I actually function a lot better in a dark room writing music," he says. The roles he plays on the new album are those of composer, arranger, producer—and big dreamer.