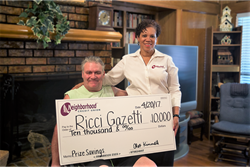 This certainly brightens up not just my day, but my year. I am a Neighborhood Credit Union member for life.
GARLAND, Texas (PRWEB) May 08, 2017
Good savings habits can bring good fortune, one Garland man has learned.
Tears welled up in his eyes as Ricci Gazetti saw the Neighborhood Credit Union leaders on his doorstep Thursday afternoon, delivering an oversized "check" made out for $10,000. The actual $10,000 prize was deposited directly into his Prize Savings Account at the credit union.
"This certainly brightens up not just my day, but my year," said Gazetti, a retired truck driver whose health problems have confined him to a wheelchair. "It's been eight months since I had a stroke, and I haven't had much go my way since then. Maybe this is the day my luck will change."
Gazetti's prize came from more than good luck, however; he was rewarded for his consistent savings habits.
"Ricci is a great example of someone who works hard and saves consistently," said Carolyn Jordan, senior vice president at Neighborhood Credit Union. "Even when money is tight, he makes it a priority to live frugally so he can continue to save for the future. Ricci's good savings habits have certainly paid off!"
Dallas-based Neighborhood Credit Union established the Prize Savings Account in 2007 to encourage people to save more money, at a time when the personal savings rate had dropped to one of the lowest levels in U.S. history. In addition to paying market-rate interest on the savings, Neighborhood Credit Union incentivizes good savings habits by awarding a variety of prizes throughout the year, culminating with the grand prize at the start of each new year. The more a person has saved in his or her Prize Savings Account, the more chances he or she has to win a prize. The grand prize has been $25,000 for the past eight years, but almost doubled to $49,999.99 this year.
"I am a Neighborhood Credit Union member for life," said Gazetti, who knows the staff at his local branch by name and has even enclosed friendly notes, on occasion, when he makes his loan payments. "I thought maybe I would win some kind of 'major award' like the leg lamp in the movie, A Christmas Story, but I never dreamed I could win something like this!"
See the Video of the surprise delivery: https://youtu.be/ugPdpureWQM
How the Prize Savings Account works: Neighborhood Credit Union members receive one drawing entry for every $25 monthly average balance in their Prize Savings Accounts. The greater the savings, the greater the chance a member has of winning. Members are eligible for monthly $1,000 drawings and quarterly $10,000 drawings. At the start of each year, a winner is drawn for the newly-increased $49,999.99 grand prize based on the average monthly balance in the savings account at close of business December 31.
About Neighborhood Credit Union: The oldest credit union in Dallas (chartered April 18, 1930), Neighborhood Credit Union is a not-for-profit financial organization serving Dallas, Denton and Ellis counties, as well as the city of Arlington. With branches in Dallas, Richardson, Arlington, Mesquite, Duncanville, Waxahachie, Lancaster, Grand Prairie, Coppell and Highland Village, and assets topping $590 million, Neighborhood Credit Union has a membership of 47,000 and continues to welcome new members daily. For more information, call (214) 748-9393 or visit http://www.myncu.com.
# # #