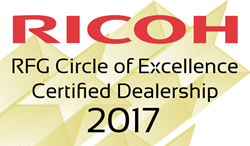 "This award is additional validation of Thermocopy's dedication to excellence and our commitment to providing our customers the best experience possible," says S.R. Sumner, Thermocopy's president.
Knoxville, Tennessee (PRWEB) May 08, 2017
Thermocopy, the largest and most experienced business technology company in East Tennessee has been honored by Ricoh as a 2017 "Circle of Excellence Certified Dealership." The "Circle of Excellence" award is earned by fewer than 10% of the Ricoh Family Group Dealers. To be considered for the award a company must demonstrate a commitment to customer service in accordance with Ricoh's strict guidelines.
Adjudicated categories that are the basis for the award include: Hardware & Solutions Training, Services-Led Initiatives, Relevant Industry Certifications, Service Organization Structure, Customer Satisfaction Measurement Process & System, Field Staff & Help Desk Productivity & Efficiency Measures, Effective Utilization of Ricoh Resources, and Business Plan Management & Process Improvement. The Ricoh Technical Support Manager, Region Managers, and the Director of Dealer Service Support carefully reviewed office equipment dealers from around the country to select recipients of the Ricoh Service Excellence Award.
About Thermocopy
Thermocopy is East Tennessee's largest business technology company offering multi-functional digital office equipment, information flow analyses and software solutions to help businesses better manage their office documents and information workflow. Now in its 53rd year, the company has more than 60 employees at offices in Knoxville and Johnson City. Thermocopy subsidiaries include Centriworks, the company's managed IT services, information flow analysis and software applications division and Clarityworks, a marketing, communications and design firm. For Thermocopy's complete range of products and services, visit http://www.thermocopy.com.