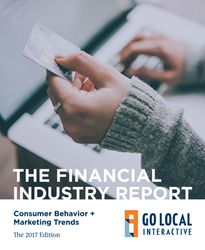 Although the industry has been consolidating since the recession began almost 10 years ago, there are still more banks in the U.S. than there are Starbucks and Target stores combined.
Overland Park, KS (PRWEB) May 10, 2017
Go Local Interactive has just released their report and analysis of marketing trends in the financial industry for the 2017 fiscal year. The report highlights trends over the past 10 years and specifically how much has changed in the past year alone. Through their research, Go Local has uncovered industry trends and shifts within the past year and analyzed these changes to forecast where the industry is growing in the coming months.
The financial industry has changed significantly over the past decade. With so much competition in the marketplace and the rise of new FinTech firms, digital marketing provides a better way to get ahead of the competition. The report details an analysis of the most successful marketing tactics, trends among the industry, and opportunities for growth that are widely undiscovered and underutilized by businesses in the industry at this point.
Although the industry has been consolidating since the recession began almost 10 years ago, there are still more banks in the U.S. than there are Starbucks and Target stores combined. The number of people shopping online and spending money through electronic transactions on their phones on the other hand, is increasing at a significant rate. This huge shift in lifestyle has happened so quickly it has been difficult for less tech-savvy businesses to keep up. There are different ways to sneak ahead of the competition, depending on where your company is at in its life cycle. It all starts with having a solid plan in place of how you are going to reach consumers instead of waiting for them to come to you. Starbucks has learned this lesson and seen their revenues skyrocket to nearly 20 times what they were worth 10 years ago.
This report combines all sorts of consumer information to illustrate the big picture in a format that is digestible and actionable, such as what kinds of services need to be available online and how to market these services to various consumer groups. The report also incorporates national financial trends and demographic forecasts in terms of strategies for each generation, tactics that work better than others, and much more. The report highlights how utilizing tactics such as social media can increase your likes and followers by more than 175% each month on average. Yet most banks only utilize Facebook and Twitter reaching a smaller percentage of their possible market. Understanding these nuances with specific consumer demographic groups while also tying in larger industry trends will be key to not only increasing revenue but really growing in 2017.
This recently released report contains in-depth research and analysis on where the industry is headed in 2017 and how some financial companies are learning to grow with digital marketing and really see some impactful changes, while others fall behind. To learn more and read all insights and analysis, check out The 2017 Financial Industry Report, now available online for free for a limited time only on the Go Local Interactive website.
About Go Local Interactive:
Go Local Interactive is a digital marketing agency specializing in new customer acquisition for national and regional brands. Go Local answers the marketing needs of national and large regional clients across a wide variety of industries including financial services, self storage, home services, retail, and ecommerce. They are experts in effectively implementing, managing and tracking clients' marketing efforts down to the local level – no matter the number of locations or size of the service area. Go Local provides website development, search engine optimization, paid search, social media, data analysis and consulting, and multiple proprietary services, such as Call Boost™ and Local Perceptions.