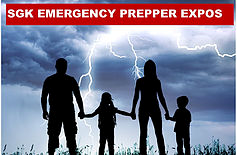 Even if people in the Greensboro region feel like they are prepared, it's worth attending because of the innovations and training opportunities.
Greensboro, NC (PRWEB) May 16, 2017
The SGK Emergency Prepper Expo at the Greensboro Coliseum on May 20th and 21st offers planning and emergency gear as well as seminars that teach survival skills and self-reliance. This event will make North Carolina the center of the survivalist world this weekend when more than 3,000 preppers are expected to attend the SGK Emergency Prepper Expo.
While many attendees may be planning for "The End of The World as We Know It," most people will visit the expo to plan for everyday emergencies and to learn how to live a more self-reliant, organic lifestyle.
Starting Saturday at the Greensboro Coliseum Complex, the Emergency Prepper Expo will kick off two days of product sales, presentations, and demonstrations intended to teach attendees how to survive and thrive during any emergency, while also offering more natural, back-to-basics living skills. Vendors at the expo represent local businesses from companies across the country.
"When people think of preparedness, preppers or survivalists, a lot of images come to mind. Unfortunately, most people think of prepping as something extreme, which is the furthest thing from the truth," said Tina Pruitt, director of Business Development for SGK. "Even the Federal government has declared September as National Preparedness Month, and for good reason."
In the last year, fast-moving natural disasters have struck huge areas all across the nation. Massive flooding in Louisiana trapped drivers on a major interstate highway for two days without food and water, while destroying tens of thousands of homes. In Tennessee and California, tens of thousands of people were evacuated because of wildfires, while Florida experienced two hurricanes.
Furthermore, preparedness isn't just about emergencies. Millions of Americans, including the younger generations, who are labeled as "survivalists" are actually returning to basics and learning how to be more self-reliant.
Upward trends in urban farming, homesteading, natural or less industrial food production, and survival skills (also known as bush craft) have been reported by national and local media, while also contributing to the development of popular network television shows.
Attendees of the SGK Emergency Prepper Expo have the opportunity to try and buy tactical and outdoors gear, essential oils, heirloom seeds, homesteading equipment, emergency food, medical supplies, and more.
The expo features more than a dozen speakers discussing and demonstrating helpful topics, including homesteading, raising chickens and other farm animals, bug out bags and medial kits, shelter construction, mind state of a survivalist, urban survival, essential oils and more.
"Even if people in the Greensboro region feel like they are prepared, it's worth attending because of the innovations and training opportunities. I'm always looking for better ways to keep my family and friends safe and ready for any situation," said Pruitt. "But I'm also excited about offering families alternative, natural methods for so many additional aspects of their lives."
The expo opens Saturday, May 20 at 9 a.m. till 5 p.m. and continues Sunday, May 21, 10 a.m. to 4 p.m.
Ticket price is $15 which includes admission and all seminars both days. Children 14 and under enter free. Free 24 hour MREs will be given to the first 150 attendees each day.
Contact Tina Pruitt at 757.943.5230 or visit http://www.emergencyprepperexpo.com.