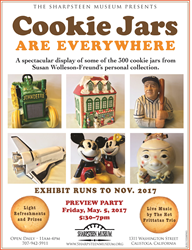 Calistoga, CA (PRWEB) May 05, 2017
Susan Wolleson-Freund's family history in Calistoga dates back to the days of Reason P. Tucker in the 1840s. Her collection of cookie jars goes back a mere 30 years. Little did she realize that on that fateful summer day in the late 1980s, when she made her first purchase of a pair of cookie jars, Little Dutch Boy & Little Dutch Girl, that she would be hooked. Her collection now stands at an easy 300+ pieces. Some jars she purchased herself, but many have been gifts from family and friends.
Susan has never shown her collection to the public. Take advantage of this once-in-a-lifetime opportunity; see this collection only at the Sharpsteen.
The public is invited to preview this new exhibit from 5:30 to 7:30 p.m. Friday, May 5. Visitors can meet Susan and her family, and see for the first and only time this awe-inspiring collection. Cookie jars will be everywhere!
Museum staff members recently visited Susan to take photos of her collection. They thought it would be an easy task. Not! Walking into Susan's home was a cabinet filled with cookie jars. Then, there was another cabinet, then a shelf, then over the fireplace, then a hutch, and another hutch. Every jar more beautiful than the one before. The best part was talking to Susan about her collection. She knows every single cookie jar, on what shelf or cabinet it resides, where it came from and the story behind each one. It was an amazing experience.
Artist Andy Warhol was a collector as well, and he and Susan have more in common than one might think. Both acquired their jars at flea markets, yard sales, small antique shops, or as gifts from family and friends. Neither Andy nor Susan chose these jars because of their current or ultimate value; each jar was chosen simply because "I liked it." Susan has Andy beat on quantity though. He maxed out at 175, about half the number in Susan's collection. After Andy's death in 1987, his collection was auctioned off by Sotheby's and brought in $250,000. Of course, Warhol's provenance likely boosted the auction prices, but one never knows.
Cookie jars have their origins in the late 18th-century biscuit jars of England. They did not become a household favorite in America until the early days of the Great Depression. Cookie jars were first made of glass with screw-on lids, but by the 1930s, they had transformed into simple, cylindrical, painted stoneware, often with a floral motif.
Soon after, cookie jar manufacturing got creative. Everything imaginable such as animals, fruits and vegetables, and storybook characters, became a cookie jar. They were also made for advertising and merchandising for products and movies, cookie jars representing international brands and cultural icons from Coca-Cola to Babe Ruth. Cookie jars had taken on a life of their own.
As far as Susan's collection, Sharpsteen Museum cannot be sure as to what exhibit visitors will see. There is not room enough in its display cases for 300 cookie jars, but the museum will fit as many as it can. Be on the lookout for Mickey & Minnie Mouse (and other Disneyana), Elvis in a pink Cadillac, Sylvester & Tweety Bird, Aunt Jemima, Coca-Cola, Babe Ruth and Lucile Ball. How about The Cow Jumped Over the Moon, a John Deere Tractor and the Space Shuttle? Even a lighthouse and hogs on hogs (yes, pigs riding motorcycles). Susan's collection is truly mind-boggling and she is proud of each and every piece.
About Sharpsteen Museum:
The Sharpsteen Museum's permanent exhibits are designed to present the history of the upper Napa Valley, from its pre-history to post-World War I with an emphasis on people and changes brought by the period of U.S. emigration and development.
In addition to its many historical exhibits, the museum uses unique and extraordinarily extensive dioramas to depict Calistoga during its period as the elegant 1860s Hot Springs resort developed by pioneer, promoter, publisher, entrepreneur, and California's first millionaire, Sam Brannan. Sharpsteen Museum has special exhibits which change twice a year, or every six months, and reflect the varied interests of the people of the Valley. They have ranged from antique silverware to model ships to historical musical instruments.