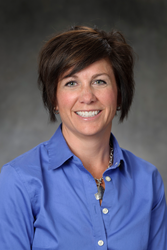 (PRWEB) May 10, 2017
Wesley Woods at New Albany announced its third marketing coordinator last week, Colleen Krupp. By accepting this role, Krupp will become responsible for educating the community on a Continuing Care Retirement Community, especially the Life Plan Community in New Albany, Ohio. She will serve as a liaison to inquiries, building community relations for the recently-opened Wesley Woods.
Krupp brings more than 20 years of experience in skilled nursing and assisted living care administration, sales and marketing at a variety of retirement communities including Methodist Eldercare's Wesley Ridge property. From her previous experience, Krupp said she believes Methodist Eldercare (MEC) has proven to be a leader in senior living.
"I am thrilled to be returning home to MEC," Krupp said. "The longevity of this organization amazes me. I understand and can attest to the quality of life a full continuum of care provides residents. Access to resources that allow residents to develop mind, body and spirit, while still offering completely independent living, is a unique and exciting opportunity for Northeast Columbus."
Krupp earned both a Bachelor of Arts in Business Administration and a Master's of Business Administration at Ohio Dominican University. While she is a native of Springfield, Ohio, Krupp has resided in Columbus for more than 17 years.
The state-of-the-art property boasts a location unlike similar complexes. Krupp said while the campus spans much acreage with a wooded backdrop, dining, shopping and other New Albany staples are very close.
"At Methodist Eldercare, we work tirelessly to support our residents," CEO, Margaret R. Carmany, said. "We aim to fulfill our mission of living a better life through the highest quality of care. Wesley Woods at New Albany helps us to broaden both the geographical and demographical profile of our residents."
Krupp lives with her husband, John, 11 year old son, Oliver, and cat, Logan. She enjoys running, as well as belonging to the the board of the Bexley Area Chamber of Commerce and being membership chair for her civic association for her neighborhood.
"This is an extensive new project and it excites me because I will be working in my own backyard," Krupp said. "Personally residing in a nearby neighborhood is a true advantage. I can anticipate the questions and concerns of future residents and confidently relate to them."
The first phase of Wesley Woods opened in December 2016 and will offer detached, villa-style cottages with attached two-car garages and retirement living apartments on 37.8 acres alongside a nature preserve. The entire new development, Wesley Woods at New Albany community will provide full health services, as health needs change, and is planned to open in late 2017.
Call (614) 656-4100 for more information regarding Wesley Woods at New Albany.
Methodist ElderCare Services is an affiliate of the West Ohio Conference of The United Methodist Church that provides quality housing, health care and services for seniors in Central Ohio. Incorporated in 1967, Methodist ElderCare Services continues to be a not-for-profit Ohio corporation that seeks to promote a positive experience of community and wellness for residents, clients and staff. For more information call (614) 396-4833 or visit http://www.methodisteldercare.org