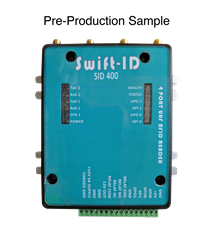 The Swift-ID system is a high-performance RFID automatic data collection solution for inventory, resource and process management.
Seattle, WA and Pittsburgh, PA (PRWEB) May 08, 2017
The Swiftsure Group and SDG Systems today announced the upcoming release of the Swift-ID SID400 and IOT180, providing a combination that lets solution providers create intelligent RFID edge solutions. Executing on the IOT180, the Blue ID-Engine software gives solution providers control of the SID400. The combined solution is ideal for inventory management, access control, kiosk solutions, asset tracking and industrial automation.
The Swift-ID SID400 is a USB-connected EPCglobal UHF Gen 2 RFID reader and writer powered by a RAIN-compliant Impinj Indy RS2000 module. It accommodates four antennas. In addition to RFID functionality, the SID400 provides a 16-pin terminal block with four GPIO ports, and 5V and 12V outputs with magnetic lock support. The SID400 USB to serial bridge with configurable vendor ID allows for white-label solutions. System functions can be monitored through status LEDs.
The Swift-ID IOT180 is a full-featured embedded Android computer. Running Android 6.0 Marshmallow, it has 2GB of RAM and 16GB of Flash Storage, providing enough memory and storage for sophisticated applications. The included Google Mobile Services (GMS) allows the IOT180 to provide integrated Android management capabilities and Google-specific services. The IOT180 connects to the cloud or private networks using Ethernet, WiFi, Bluetooth and optional 3.75G HSPA+ cellular.
The SID400 can be controlled with the IOT180 using the Blue ID-Engine middleware from SDG Systems. ID-Engine provides a full-featured SDK to control RFID reading and writing, device settings and GPIOs. With additional software from SDG Systems, the IOT180 can be configured into kiosk mode and managed remotely.
"The Swift-ID system is a high-performance RFID automatic data collection solution for inventory, resource and process management," said Swiftsure Group CEO Bruno Riegl. "It meets customers' needs for affordable solutions that excel in challenging environments, from pharma cold chain to steel manufacturing. It provides a competitive edge and healthy ROI."
The flexibility of the SID400 and IOT180 gives RFID cloud and fog computing options to solution providers. It enables developers to build applications that process data at high speeds, providing shorter response times and better analytics. For example, using Google TensorFlow, edge devices can perform on-device machine learning and computer vision.
"We are offering a modern, innovative approach to RFID solutions," said Todd Blumer, CEO of SDG Systems. "Android is now the most popular operating system in the world. We want our partners to quickly implement their solutions by leveraging the growing pool of Android developers and software building blocks, like ID-Engine. For those companies who have existing software, the SID400 will work with the Impinj Indy libraries."
The SID400, IOT180 and ID-Engine software will be demonstrated May 9-11 at RFID Journal Live 2017 in the SDG Systems booth (#938). The solutions are available for purchase from either company. The Swift-ID SID400 and IOT180 are expected to be available in June 2017.
About The Swiftsure Group
The Swiftsure Group is a systems developer and integrator specializing in RFID- and sensor-based technologies for inventory, asset and workflow management. Since 1998 it has provided consulting services, turnkey solutions and project management for automatic data capture, resource optimization and business process improvement.
About SDG Systems
SDG Systems builds data collection software and offers professional software development services for Android and the cloud. Other services include system integration, OS porting, application development and training. SDG is a leader in the implementation of Google Android solutions on rugged and embedded devices since 2009 and has been developing and supporting Linux system and application software since 2001.
###