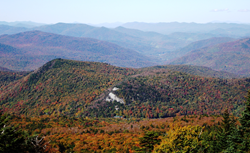 I have to say the experience exceeded my expectations in every way. John and his guides were amazingly attentive, doing their utmost to customize the experience for each guest. And the experiences themselves were awesome, including hikes on the A.T..
Killington, Vermont (PRWEB) May 08, 2017
Appalachian Trail Adventures(ATA) offers a distinctive adventure vacation with guided daily hiking, kayaking, and caving in the Green Mountains of Vermont that targets families and individuals who are adventurers, including hikers who do not feel comfortable hitting the trails alone. Unlike most spas, ATA's owner John Keough is engaged daily with the guests on the trail and kayaking.
Over the past 10 years, Appalachian Trail Adventures has built a reputation by introducing vacationers to some of Vermont's best hiking trails, kayaking locations, caves, and local attractions. ATA guides really enjoy what they do and it shows; they treat every guest as family and friends, creating a friendly atmosphere. As further evidence of ATA's success, TripAdvisor has awarded ATA with the certificate of excellence for the past three consecutive years. However, the real amazing fact is the 170 positive reviews on TripAdvisor's with not one bad review.
"We would like to thank our partners the Summit Lodge and the Foundry restaurant for the successes that ATA has achieved in the past 10 years, it's a true team effort," said John Keough, ATA Founder and guide. "Our partners' success is, and will continue to be, our success. This milestone is a testament to ATA's commitment to continued perfection, and to the future of the company, our partners, and the travel and fitness industries."
As Appalachian Trail Adventures paves the way to the future, it pledges to provide the best affordable Vermont vacations while refining aspects of its programs to exceed our hikers' needs and expectations. In addition, Appalachian Trail Adventures will continue to provide market-defining personalized vacations, one hiker at a time.
ATA offers a variety of options to help customize one's vacation. The most common is the Hiking Vacation that consists of an air-conditioned room with three daily spa meals, a guided novice, intermediate or advanced hike and an afternoon of kayaking, an excursion or caving. Massages, yoga classes and tennis lessons are available a la carte. ATA's unparalleled hiking vacation start at the lowest possible prices at $242.00 per night, per person, including taxes and gratuities.
ATA 2017 season runs from Memorial Day weekend on May 26th through Columbus Day weekend, closing on October 15th.
For more information on ATA's vacation, please visit http://www.appalachiantrailadventure.com or ATA's Facebook page to see pictures from our daily adventures. Our Facebook is open to the public, so you do not need a Facebook account to view it.
Contact:
John Keough
Founder & Guide
1-888-855-8655