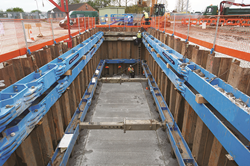 When we compare its use to standard welded frames, the savings in time and installation effort is substantial.
(PRWEB) May 17, 2017
Mabey, a leading construction rental and engineering company located near Baltimore, Maryland, introduces Super Powerbrace Plus (SPP), a new "heavy hitter" in its modular shoring lineup. Mabey's modular shoring systems are designed for quick assembly and protect workers from a trench collapse while working underground. With the addition of SPP, Mabey offers its customers a safe and efficient solution for bracing large, complex pits.
The new bracing system can support large infrastructure projects with its high-load capacity, able to sustain bending moments of up to 1.7 million foot pounds*, making it the strongest hydraulic waler system of its kind. SPP is constructed of high-strength steel — capable of larger spans with fewer levels of support than conventional bracing. Contractors working on water and sewer, fuel tank, bridge foundation or soil remediation projects will benefit from SPP's design that allows broader access across the excavation. SPP provides excavators and cranes more room to lower pipes and tanks directly into the pit and allows excavators to work inside or directly above the pit with fewer obstructions.
Mabey's Engineering Manager, Doug Brunot, explains the power of SPP:
"The Super Powerbrace Plus system was designed by our in-house engineering staff to improve upon the successful Super Shaftbrace. The steel plate girder design allows for a section with a much higher capacity. The improved joint design uses one 3 1/8" diameter pin and four 1 3/16" high strength bolts. This is a stronger joint in positive and negative flexure. The extension units for SPP span up to almost 46 feet and the longest standard leg assembly extends to 83 feet. When combined with Mabey Mega Struts in the corners for added strength, the system can accommodate much larger pit sizes with only one level of frame. The hydraulic, adjustable design is an added benefit to this robust equipment. When we compare its use to standard welded frames, the savings in time and installation effort is substantial. The SPP is constructed with high strength, Grade 65 steel which is another reason the system is a superior choice for excavation bracing."
SPP does not require the beams to be cut or welded because its modular design, pinned joints, and hydraulic adjustment ends can be assembled to fit any size or irregular-shaped excavation. The SPP system can save contractors days on their complex infrastructure projects.
Read more about the SPP shoring system on Mabey's website.
*Engineering note: 1,696,000 foot pounds - allowable moment at continuous beam section.
###
Mabey is an engineering company and leading provider of bridging and non-mechanical construction equipment and services. We accelerate the construction and maintenance projects that matter most to the customers and communities we serve, delivering reliable new infrastructure more safely, more efficiently and more quickly. A family-owned business operating for nearly 100 years, we employ 800 people and operate in 140 countries around the world. Our teams offer the unparalleled personal service of a local supplier combined with the financial stability, engineering expertise and resources of a global business.