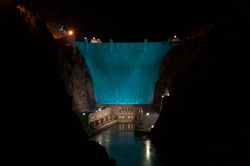 American Lung Association chose Reclamation's iconic Hoover Dam as the site for Lung Force turquoise takeover
Las Vegas, Nevada (PRWEB) May 08, 2017
To celebrate National Women's Lung Health Week (May 7-May 13), the American Lung Association's LUNG FORCE will work with partners to turn famous landmarks including Southern Nevada's own Hoover Dam, with support of the Bureau of Reclamation and Total Show Technology, across the country turquoise as part of the LUNG FORCE Turquoise Takeover. Joining the Hoover Dam, the Downtown Summerlin and the High Roller at the LINQ on the Las Vegas Strip will also turn turquoise to demonstrate support for LUNG FORCE, a national initiative to fight lung cancer, the leading cancer killer of women and men in the U.S., affecting hundreds of thousands of American women each year. The Hoover Dam will be illuminated May 8th, at approximately 8:30 pm Pacific Daylight Time, 30 minutes after sunset. The general public may view the illumination from 8:30 pm to 10:30 pm at the Hoover Dam's observation bridge on May 9th and 11th, 2017. A special press event will take place at a private, secure location (not open to the public) at the Hoover Dam May 8th, from 8:30 pm to 10:30 pm.
"Lung cancer is the no. 1 cancer killer of women, and yet only two percent of women note lung cancer as a top-of-mind health concern," said Kristina Crawford, executive director of the American Lung Association in Nevada. "National Women's Lung Health Week is a great opportunity for us to spread awareness about lung cancer and show support for those whose lives have been affected by the disease. We are thrilled to partner with Hoover Dam and Total Show Technology in lighting the dam for the LUNG FORCE Turquoise Takeover and joining the force to end lung cancer."
"As one of many cancer survivors across the country, I am honored that the American Lung Association chose Reclamation's iconic Hoover Dam as the site for Lung Force turquoise takeover. We are all pleased to host this event to support and raise awareness of the importance of early detection and prevention of lung disease." Said Reclamation's Lower Colorado Regional Deputy Director, Jennifer McCloskey.
"We are proud to support lung and cancer awareness for our local community and Nevada. There is nothing better than seeing the gifts we have been blessed with at work for a good cause," said Rick Pollock, President of Total Show Technology.
Both the High Roller and Downtown Summerlin will be lit up on the evening of Tuesday, May 9, only.
Use #ShowYourLUNGFORCE when posting LUNG FORCE Turquoise Takeover photos on social media channels.
About the American Lung Association
The American Lung Association is the leading organization working to save lives by improving lung health and preventing lung disease, through research, education and advocacy. The work of the American Lung Association is focused on four strategic imperatives: to defeat lung cancer; to improve the air we breathe; to reduce the burden of lung disease on individuals and their families; and to eliminate tobacco use and tobacco-related diseases. For more information about the American Lung Association, a holder of the Better Business Bureau Wise Giving Guide Seal, or to support the work it does, call 1-800-LUNGUSA (1-800-586-4872) or visit: Lung.org.
About LUNG FORCE
LUNG FORCE is a national initiative led by the American Lung Association to unite women against lung cancer, the #1 cancer killer of women. LUNG FORCE has three priorities: 1) Make lung cancer a cause that people care about – and act on; 2) Educate and empower patients and healthcare providers and 3) Raise critical funds for lung cancer research. The American Lung Association's LUNG FORCE is nationally presented by CVS Health. Find out more: LUNGFORCE.org.
About the Bureau of Reclamation and Hoover Dam
Reclamation is the largest wholesale water supplier in the United States, and the nation's second largest producer of hydroelectric power. Hoover Dam was constructed in 1935 for flood control on the lower Colorado River and to provide a stable, year-round water supply for the desert lands of the Southwest. The Dam provides water for irrigation of more than 2.5 million acres, domestic use of over 23 million people in southern Nevada, California, central Arizona and Mexico, and a thriving habitat and species conservation program. Today, Hoover Dam ranks 20th in the world in height (2nd highest in the U.S.), and 12th in hydropower production (2nd in the U.S.). Its reservoir, Lake Mead, is the largest man-made reservoir in the United States, and is a popular recreation site. Each year, nearly 1 million people take a guided tour of Hoover Dam, and many thousands more visit the site to explore the area. In 2017, Hoover Dam greeted its 50 millionth visitor. Visit our website at https://www.usbr.gov and follow us on Twitter @USBR.
About Total Show Technology
Total Show Technology is a premier Audio Video Production Company headquartered in Las Vegas, Nevada. Since 1996, Total Show Technology has grown to become one of the most dependable event partners nationwide, delivering audio, video, lighting, projection, LED video walls, LCD video walls, computers, staging and total show production needs for conventions, trade shows, events and special events nationwide. For 26 years Total Show Technology has serviced thousands of brand leading customers. Visit http://www.totalshowtech.com to learn more.