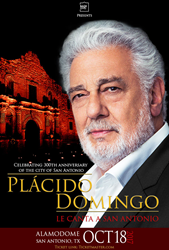 San Antonio, Texas (PRWEB) May 09, 2017
Bags Live USA presents
Placido Domingo in concert - "Le Canta a San Antonio"
Featuring conductor Eugene Kohn
 
WHEN: Wednesday, October 18, 2017
TIME: 8:00 PM           
WHERE: Illusion's Theater at the Alamodome - 100 Montana St, San Antonio, TX 78203, USA
 
WHAT: "Plácido Domingo Le canta a San Antonio" is a rare occasion to hear one of the greatest voices in the world, "the King of Opera" performing at the Alamodome on October 18th. Plácido Domingo returns after 6 years to pay homage to San Antonio, in pre-celebration of the City's tri-centennial anniversary.
It promises to be a one of his kind and magical night where Maestro Domingo will enchant the audience with famous operatic arias, traditional Spanish songs and popular music. It will be accompanied by a full symphonic orchestra and a group of Mariachi. A world-renowned soprano will also sing duets alongside Maestro Domingo throughout the concert.
His phenomenal voice is spellbinding, the sound luscious and his presence on stage charismatic, full of passion and energy. This concert will become a memorable milestone in San Antonio's music history. It is his mission to touch the public, as he stated: "It's a privilege for me to do what I do and make the audience happy".
Don't miss it!
Ticket go on sale on May 15th on http://www.ticketmaster.com/event/3A0052A11DA2497F
The ARTIST: A multifaceted artist, Domingo's vocal repertoire encompasses 147 stage roles – a number unmatched by any other celebrated singer in the opera history. He recorded more than one hundred recordings of complete operas, earning 12 Grammy Awards and 3 Latin Grammy Awards. Domingo is also a respected conductor and the General Director of Los Angeles Opera. His lifelong commitment and contribution to music and the arts has led him to receive honorary doctorates from Harvard University and New York University, among dozen others. In 2012 he was appointed as UNESCO Goodwill Ambassador in recognition of his "exceptional artistic career, his inestimable support for young opera musicians through the Operalia competition, and his dedication to the values and ideals of UNESCO".
For more info, please visit http://www.placidodomingo.com
TICKETS: http://www.alamodome.com/events
Ticket prices ranges from $ 400 (incl. cocktails reception after the concert), $275 to $45
Produced by Bags Live
Bags Live USA is a full service production and consultation firm, specializing in event design, production management, artist relations, and revenue generation for commercial and nonpro1it clients. With our industry expertise and vast network, we're able to create and customize events of all sizes; turning our clients' vision into memorable experiences.
For more information about the concert, contact:
info@bagslive.us
http://www.bagslive.us
Phone: 310-841-0220