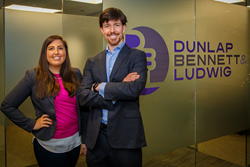 Vienna, VA (PRWEB) May 08, 2017
Dunlap Bennett & Ludwig is proud to announce that founding partner, Attorney Thomas Dunlap, has been selected for inclusion to SuperLawyers 2017 for both Virginia and Washington D.C. for the second year in a row. In addition, Associate Attorney Christina Heischmidt has been selected for inclusion to the Virginia and Washington DC SuperLawyers Rising Stars List for 2017.
SuperLawyers selects the top 5% of attorneys using a split analysis of peer recognition, professional achievements, and community involvement. The Rising Stars list is comprised of the top 2.5% of early-career attorneys who are either under 40 years of age or have less than ten years of experience.
Founding Partner, Attorney Tom Dunlap, is known professionally and throughout the community for helping without hesitation, which he demonstrated in 2000, when he enlisted in the United States Army, leaving his practice behind to serve his community and his country. On his return, Dunlap applied the Army's philosophies of leadership and service to his business and built the Firm of Dunlap Bennett & Ludwig on a foundation of integrity, accessibility, and incomparable expertise. Dunlap's innovative approach to law coupled with his master's degrees in both business and biotechnology has grown his practice from a two-man team to an international firm employing over 100 attorneys and staff.
Attorney Christina Heischmidt obtained her Juris Doctorate from Penn State Law in 2010 and has served Dunlap Bennett & Ludwig for the past five years as a business litigation, government contracts, and estate attorney.
In addition to Attorney Dunlap and Attorney Heischmidt's recent honors, Partner George Hawkins was also recently honored with appointment to the Northern Virginia Association of Realtors INC Standard Forms committee, where he will work with local realtors to ensure real estate legal forms adapt with technology and remain relevant to the evolving industry.
The past year brought significant growth and change to Dunlap Bennett & Ludwig, which more than doubled in size and added offices in Oklahoma, Colorado, Delaware, Georgia, and New York City, in addition to purchasing an office for the Richmond, Virginia team. The Firm also further expanded the Corporate, Mergers & Acquisitions, Real Estate, Litigation, Estate, and Aviation practice groups, when they welcomed Partners and staff from the former Firms of Carr Morris & Graeff (Vienna, VA) and Fontanez Law (Tulsa, OK). Additional acquisitions are on the horizon before the close of 2017. Slowing is not in Dunlap Bennett & Ludwig's future.
You can read more about Dunlap's accomplishments as published on SuperLawyers here.