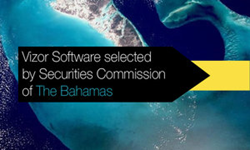 Dublin, Ireland (PRWEB) May 08, 2017
Today, Vizor Ltd. announced its regulatory reporting solution has been implemented at the Securities Commission of The Bahamas (SCB) where it will be used to capture information of all regulated persons, create high priority reports, and consolidate all data from multiple databases into one.
Over fourteen hundred Licensees and Registrants report to the SCB. With the implementation of the Vizor Software reporting solution, all Licensees and Registrants will now do so through one system resulting in significant improvements to the quality, consistency, reliability, and integrity of information submitted to and subsequently published by the SCB. The implementation furthers the SCB's mission to effectively oversee and regulate the activities of the investment funds, securities and capital markets, and to protect investors while strengthening public and institutional confidence in the integrity of those markets.
"This is our third project with The Bahamas," remarked Conor Crowley, Joint CEO of Vizor Software. "The Central Bank of the Bahamas has launched an Online Reporting and Management System with Vizor Software, as has the Insurance Commission of The Bahamas (ICB)."
About the Securities Commission of The Bahamas
The Securities Commission of The Bahamas ("the Commission") is a statutory body established in 1995 pursuant to the Securities Board Act, 1995. That Act has since been repealed and replaced by new legislation. The Commission's mandate is now defined in the Securities Industry Act, 2011 (SIA, 2011). The Commission is responsible for the administration of the SIA, 2011 and the Investment Funds Act, 2003 (the IFA), which provides for the supervision and regulation of the activities of the investment funds, securities and capital markets. The Commission, having been appointed Inspector of Financial and Corporate Services effective 1 January 2008, is also responsible for administering the Financial and Corporate Service Providers Act, 2000.
You can learn more about The Securities Commission of The Bahamas on their website http://www.scb.gov.bs/index.html
About Vizor
Vizor Software has been the standard for financial regulatory technology since 2000. Leading the way in regulatory supervision software, Vizor Software is trusted by central banks and financial regulators from around the globe for the collection, validation and analysis of highly complex data from Financial Institutions. Serving the needs of financial regulators in more than 30 countries, Vizor is a trusted partner of large consulting firms and leading XBRL toolset providers. Employing a collaborative, agile approach to implementing regulatory solutions, Vizor simplifies and strengthens financial regulation systems. You can learn more and visit Vizor at http://vizorsoftware.com or by following Vizor on Twitter, LinkedIn, Google+ and Pinterest.