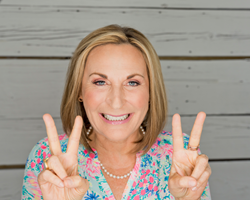 New York, New York (PRWEB) May 07, 2017
Lucy Buffett's gumbo love is literally rolling via food truck into New York City May 9th to coincide with and celebrate the release of her new book, GUMBO LOVE – Recipes for Gulf Coast Cooking, Entertaining, and Savoring the Good Life.
Buffett, known for her unconventional business approach and her wildly successful Gulf Coast restaurants, has obtained rarely granted permission to park her GUMBO LOVE -themed food truck in the financial district on the corner of South End St and Liberty Ave, near the 9/11 Memorial in Manhattan. From 11 am to 2 pm, she will be serving tastings of her family seafood gumbo recipe and other southern fare featured in the book.
"I had to be in New York when the book dropped and thought, why don't we just cook up some gumbo and let folks taste a little of what the book is all about?" remarked Buffett. GUMBO LOVE is her second cookbook— describing it as her homage to the vibrant Southern Coastal food culture and lifestyle of where she grew up—and it picks up the conversation from her first book, LuLu's Kitchen, both published by Grand Central Life & Style.
Filled with anecdotal narrative—as well as the classic Gulf Coast recipes inspired by both of her Southern grandmothers—Buffett muses, "the character-building traits one must employ to make a really good gumbo are also the same traits" she has relied upon to become a self-reflective, empowered, happy woman. Along the way, "gumbo love" became both a personal and business philosophy based on love and respect with the intention of putting something positive out in the world.
Buffett is self-taught and has cooked and lived on all three coasts, including a position as the Executive Chef on the vintage motor yacht Mariner III at Pier 62 in Manhattan. Buffett's restaurants, named LuLu's after her childhood nickname given to her by her brother, Jimmy Buffett, are in Gulf Shores, Alabama and Destin, Florida and serve more than one million customers each year. She is scheduled to open another of the 400-seat festive eateries in Myrtle Beach, South Carolina in 2018. Buffett now spends her time between Perdido Key, Florida and Key West, Florida.
LUCY "LULU" BUFFETT cooked her way from coast to coast before returning home to Alabama to open a modest bayside gumbo and burger joint that also doubled as a bait shop. Now, she is the successful restaurateur of two locations of LuLu's, where she serves more than one million guests a year. Lucy's adventures—culinary and otherwise—inspired her to write LuLu's Kitchen, formerly Crazy Sista Cooking, and now GUMBO LOVE. Visit Lucy at http://www.lucybuffett.com