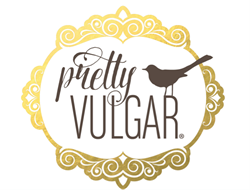 The exclusive collection was inspired by an eclectic vintage aesthetic--a throwback to the ladylike charm of a bygone era with modern attitude.
BOCA RATON, FL. (PRWEB) May 15, 2017
Pretty Vulgar is perched to make its brand debut with a signature vintage bird-themed collection. The collection of 25 products in 80 color selections is now available exclusively on Sephora.com and PrettyVulgar.com. In addition, an initial 11 Sephora locations in Florida and California will carry the line.
The brand's in-store display is a unlike anything you've ever seen. The fixture is fashioned in the shape of a vintage birdcage, and highlights the array of luxurious and thoughtfully-crafted products. Equally beautiful and eclectic, the packaging is fronted by product testers that invite customers to experience every formula first-hand. Click here for image.
"The packaging is unlike anything I've seen and a stark difference from all the girly, glittery, mermaid-inspired makeup that's on the market right now. Instead, Pretty Vulgar is inspired by vintage beauty products. The idea is that sometimes you're in a pretty mood, and sometimes you feel ~vulgar~. "
Allure
Pretty Vulgar was conceived in order to embrace the contradiction that exists in all of us, a throwback to the ladylike charm of a bygone era with modern attitude. Not only does the line provide smooth application and a vast range of rich and vibrant colors, the products are designed to look as good on your face as they will on your vanity.
"The name perfectly captures the duality of the brand."
Forbes
Pretty Vulgar's cruelty-free, rich product formulations are developed free of parabens, sulfates and phthalates. The diverse spectrum of vibrant colors, lightweight formulas and long wear are just a few of the benefits you will experience.
"It's pretty, but edgy; simple, but bold; and modern, but retro. The vintage packaging feels like striking gold at a flea market, and each product is affordable, too."
Refinery 29
FEATURED PRODUCTS
The elegant birdcage design of The Feathers Mascara features a curved brush that lifts your lashes while creating dramatic volume, curl and length. The long-wearing formula is enriched with Pro-Vitamin B5 and sodium hyaluronate to moisturize and thicken each lash. Click here for image.
With a cap shaped like a vintage fountain pen, the On Point Liquid Eyeliner Pen creates elegant, fine lines with precision and a long-wearing, quick-drying, color-rich formula. Click here for image.
Housed in a gorgeous gold and floral tube inspired by teacups, Bury Them With A Smile Matte Lipstick delivers the ultimate staying power. Enriched with hydrating butters and oils, your lips will look fresh and plump without sacrificing pigmentation. Click here for image.
To learn more about Pretty Vulgar, visit http://www.PrettyVulgar.com. Shop the entire line at Sephora.com/Pretty-Vulgar, or visit a participating Sephora store in Florida and California.
ABOUT PRETTY VULGAR
Pretty Vulgar was created by a collective flock of cosmetics industry veterans, innovators and makeup artists who wanted to create a brand that embodies the fact that people are beautiful multifaceted contradictions.
Our beauty looks are motivated by the colorful diversity of birds everywhere, encouraging us to embrace the beautiful contradictions that exist in all of us, to have the elegance of a swan in one moment and the darkness of a raven the next. Now, the choice isn't Pretty or Vulgar, but to blend, blur and mix into a colorful shade that's uniquely you.
For images and additional press materials, please click here: https://drive.google.com/open?id=0B-I3Ryha9QfdbDlCQ0oyS256QlE
Website: PrettyVulgar.com
Facebook: Facebook.com/PrettyVulgar
Twitter: Twitter.com/PrettyVulgar
Instagram: Instagram.com/Pretty_Vulgar
Contact: Alexis Kornblau
Phone: 561-300-2725
Email: Alexis(at)PrettyVulgar(dot)com
###