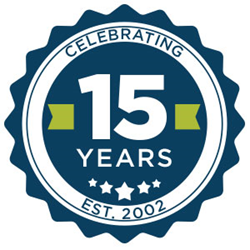 We're thrilled to be celebrating our 15th year in business, and believe this longevity shows customers are responding to Lightning Labels' embrace of technology and the improvements it brings to their labels.
Denver, CO. (PRWEB) May 09, 2017
This month, Lightning Labels celebrates 15 years providing custom labels for businesses. By embracing an all-digital printing philosophy, Lightning Labels has provided its customers with convenience and effectiveness enabled by a tech-savvy and customer-centric approach to business. Looking back at the past 15 years and ahead at the future, Lightning Labels has staked out a unique place as a custom label printer that can help companies realize their ideas on materials that suit their designs, with turnaround times that would be impossible using legacy printing methods.
The Advantages of Digital
With the 15th anniversary celebrations already underway, Lightning Labels is restating its commitment to excellence on behalf of its customers. The traits that have kept Lightning Labels relevant in the industry for the past decade and a half come from a combination of advanced technology and dedication to seeing customers' projects through to completion. The following are just a few of the value-added features Lightning brings.

Quality and Customization: When businesses design labels for printing, they have to decide which material to use. If those businesses work with Lightning Labels, they have a wide variety of options, with everything from metallic materials to recycled substances vying for attention. Buyers are free to make the right choice to complement their designs, knowing that the digital printing processes will render their imagery clearly and attractively.
Flexibility and Service: Lightning Labels' digital printing processes ensure that every custom label order suits the client's description exactly. While traditional printing processes involve the creation of plates, raising costs for small orders, Lightning can easily and economically produce short print runs or varied labels with features such as sequential numbering. This increased flexibility, combined with hands-on customer care, reaffirms Lightning Labels' commitment to personalized service.
Long-term and Short-term Excellence: With clients free to make changes often due to the low minimum orders sizes, they're able to respond to labeling regulations, create new looks based on holidays or seasons, or simply shift their look in response to consumer trends. Though such campaigns run for a short time, high-quality customer service is a great incentive for customers to stay with Lightning Labels season after season, year after year.
"We're thrilled to be celebrating our 15th year in business, and believe this longevity shows customers are responding to Lightning Labels' embrace of technology and the improvements it brings to their labels," stated Lightning Labels Director of Business Development AnneMarie Campbell. "We look forward to serving our clients' needs for another 15 years and beyond."
Everyone Needs Labels
In a retail marketplace defined by branding, companies define themselves by the way their products look. If they have prime labels to catch consumers' eyes on store shelves, they stand a better chance of succeeding within their individual sectors. By responding to this need with up-to-the-moment technology and good old-fashioned customer service, Lightning Labels has established a place as a trusted labeling partner for 15 years. There is always demand for labels that can be produced quickly, meet tough quality standards and fit clients' needs exactly - this is where Lightning Labels has fit in.
About Lightning Labels:
Lightning Labels uses state-of-the-art printing technology to provide affordable, full-color custom labels and custom stickers of all shapes and sizes. From small orders for individuals to the bulk needs of big businesses, Lightning Labels is equipped to handle and fulfill custom label and sticker projects of all types. Best of all, like the name implies, Lightning Labels provides a quick turnaround for every customer's labeling needs. Uses for Lightning Labels' custom product labels and custom stickers include food packaging and organic food labels, wine and beverage labels, bath and body labels, and nutraceutical products, such as vitamins, essentials oils, and herbal remedies, as well as event stickers, adhesive window stickers and more. Lightning Labels strongly supports the development of environmentally friendly printing materials and carries EarthFirst PLA, a new kind of green label material made from corn instead of petroleum. While operating as a high-tech printer, Lightning Labels prides itself on its personalized customer service. Lightning Labels provides one stop shopping for all of your custom label needs. For more information and to place orders online, visit LightningLabels.com. For the latest in packaging news and labeling promotional offers, find Lightning Labels on Twitter (@LightningLabels), Facebook, Pinterest, Google+ and LinkedIn.