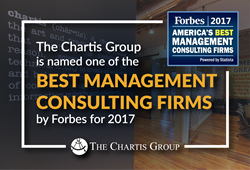 Chicago, IL (PRWEB) May 08, 2017
The Chartis Group, a national advisory services firm dedicated to the healthcare industry, is ranked among the top one percent of consulting companies in the U.S. by Forbes for the second year in a row. In addition to Health Care & Life Sciences, The Chartis Group was selected as a top firm in Strategy, IT Strategy, Digital Transformation and Organization consulting.
Rankings are compiled by Statista using a combination of consulting firm partner questionnaires – assessing companies held in high regard excluding their own – and client surveys of business executives who worked directly with those firms. 1,207 consulting firm partners participated in this year's survey along with 1,100 business executives. The firms that received a disproportionately high number of recommendations in each category were included in the list.
"It's rewarding to be recognized by our clients and peers for providing cutting edge, impactful insights and analytics to the healthcare industry," said Ken Graboys, Co-Founder and Chief Executive Officer of The Chartis Group. "Each day our colleagues work with leading providers across the country to deliver comprehensive capabilities across strategy, performance, and informatics and technology; working together to navigate an increasingly uncertain and complex landscape with the mission of improving the delivery of care. I continue to be fueled by the talent and passion of our colleagues and clients."
About The Chartis Group
The Chartis Group® (Chartis) provides comprehensive advisory services and analytics to the healthcare industry. With an unparalleled depth of expertise in strategic planning, performance excellence, informatics and technology, and health analytics, Chartis helps leading academic medical centers, integrated delivery networks, children's hospitals and healthcare service organizations achieve transformative results. Chartis has offices in Boston, Chicago, New York, Minneapolis and San Francisco. For more information, visit http://www.chartis.com.
Contact:
Amy O'Brien
Principal and Vice President of Strategy and Business Development
The Chartis Group
aobrien(at)chartis(dot)com
312.932.3060
Terri Sanders
Director of National Marketing
The Chartis Group
tsanders(at)chartis(dot)com
312.932.3051