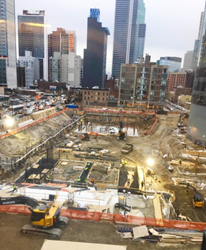 We work closely with each project during our due-diligence process to make certain that we have all the project-related information necessary to obtain approval from USCIS
New York, NY (PRWEB) May 06, 2017
CanAm Enterprises (CanAm) is pleased to announce that the Form I-924 project exemplar application for the Tishman Speyer Gotham Towers project has been approved by the United States Citizenship and Immigration Services (USCIS) on May 2nd, 2017.
The $153 million EB-5 loan is helping finance the construction of two Class-A office towers located in Long Island City, one of the most rapidly growing residential and commercial areas of New York City. This project is being developed and managed by Tishman Speyer - one of the leading developers, operators and fund managers of first-class real estate worldwide. Tishman Speyer has assembled a property portfolio in excess of US $81.9 billion in total value across the United States, Europe, Latin America, India and China.
The construction of Gotham Towers commenced late last year and is anticipated to be completed in the fourth quarter of 2017. More than 75 percent of the office space already has been leased to major tenants.
The preapproval by USCIS casts a vote of confidence for the Gotham Towers project. "We strive to make sure that each submission to USCIS seeking preapproval of a new project addresses any possible concerns USCIS may have," says CanAm's In-House Immigration Counsel Walter S. Gindin, Esq., "We work closely with each project during our due diligence process to make certain that we have all the project-related information necessary to obtain approval from USCIS."
CanAm's track record over the past years attests to that.
To date, more than 1,800 investor-families received permanent residency status as a result of CanAm's job creations. Furthermore, 1,673 investors received full principal repayment, totaling $836.5 million.
# # #
About CanAm Enterprises
With three decades of experience promoting immigration-linked investments in the United States and Canada, CanAm has a long and established track record. Based on a reputation of credibility and trust, CanAm has financed more than 54 project loans and raised more than $2.5 billion in EB-5 investments. CanAm exclusively operates several USCIS-designated Regional Centers that are located in the city of Philadelphia, the commonwealth of Pennsylvania, Los Angeles County, Hawaii, the New York Metropolitan region, Florida, and Texas.
For more information, please visit http://www.canamenterprises.com.
About the EB-5 Immigrant Investor Program
The EB-5 Immigrant Investor Program (EB-5), administered by the United States Citizenship and Immigration Services (USCIS), provides opportunities for qualified foreign nationals to achieve permanent legal residency in the U.S. through an investment in a USCIS-approved project that will generate at least 10 full-time jobs in the United States.