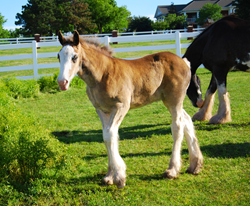 Oklahoma City, OK (PRWEB) May 08, 2017
After almost two months of frolicking in the grass and nuzzling with his mom, Ruby, the newest addition to the Express Clydesdales of Express Employment Professionals is ready for a name that will be chosen online by fans.
The foal is one of two rare black-and-white Clydesdale babies born this spring at the barn in Yukon, Oklahoma, as part of a breeding program that began in 2015 with the birth of three foals. He was born on March 16 and weighed 122 pounds. The other new addition is a filly named Jewel. When fully grown, the two could stand more than 8 feet high each and weigh more than 2,000 pounds. They currently drink 50 pounds of milk daily.
The public is invited to choose the new Clydesdales name from one of the following: Nation, Nyle, Norman and Noah by voting online at ExpressPros.com/OKC. The name "Nation" was nominated by Tabitha Hageman, barn event coordinator, in honor of a 13-year-old boy with who has been visiting the barn for several years. Nation is the teenager's last name. "Nyle" comes from Scotland where the Clydesdales originated and is thought to mean "champion."
The name "Norman" was nominated in honor of Norman, Oklahoma, which is home to the University of Oklahoma and the Oklahoma Sooners. The final name, "Noah," has a Hebrew meaning of rest and peace. "Noah" was chosen in honor of the biblical figure.
The winning name will be announced on social media and on ExpressPros.com/OKC May 22.
"Over the last 10 years, there's been a dramatic decline in the breeding of these beautiful black-and-white horses in North America, so we established our own program to ensure their legacy continue," said Bob Funk, CEO and Chairman of the Board of Express. "We are excited that our program has been so successful and look forward to raising some of the top Clydesdales."
The new foal can be seen at the Express Clydesdales Welcome Center from Tuesday through Saturday, 10 a.m. to 5 p.m., and on Sunday from noon to 5 p.m. The Express Clydesdales Welcome Center is located at 12701 W. Wilshire Blvd in Yukon.
"It's been very exciting to see the new foals join the team of Express Clydesdales," said Josh Minshull, general manager of the Express Clydesdales. "Our team has done a fantastic job ensuring the young horses have had the best care during these critical first few months of life."
As ambassadors for Express Employment Professionals, the Express Clydesdales make nearly 200 appearances to Express offices throughout the U.S. and Canada annually, with many of the promotional appearances serving as an opportunity to raise funds for Children's Miracle Network Hospitals.
The Express Clydesdales have participated in many nationally recognized parades and promotional events including: Macy's Thanksgiving Day Parade, Tournament of Roses Parade, and the St. Patrick's Day Parades in Savannah, Georgia, and Chicago. The award-winning Clydesdales earned the title of World Champion eight-horse hitch at the 2015 Clydesdale Show in London, Ontario, and won first place in the four-horse, six-horse, and elite six-horse hitch competitions at the 2014 Wisconsin State Fair in Milwaukee, Wisconsin.
In 1998, Funk, who owns Express Ranches, visited the longstanding Canadian Western Agribition in Regina, Saskatchewan. It was there that he fell in love with the rare and beautiful black-and-white Clydesdales, and started purchasing them to become ambassadors for Express Employment Professionals.
Throughout the years, the Express Clydesdales have enjoyed many historic moments while representing Express Employment Professionals, including escorting Prince William and the Duchess of Cambridge at the Calgary Stampede in 2011.
Media Tour – Meet the New Baby Clydesdales
Tuesday, May 16 from 10-11 a.m.
Express Clydesdales Welcome Center, 12701 W. Wilshire Blvd., Yukon
Bob Funk, CEO of Express Employment Professionals, and John Minshull, general manager of Express Clydesdales, will be on hand for a media tour to see the new baby Clydesdales. To arrange an interview, please email sheena.karami(at)expresspros.com.
About Express Employment Professionals
Express Employment Professionals puts people to work. It generated $3.05 billion in sales and employed a record 510,000 people in 2016. Its long-term goal is to put a million people to work annually. For more information, visit ExpressPros.com.
For More Information:
Sheena Karami
Express Employment Professionals
(405) 840-5000
sheena.karami(at)expresspros.com