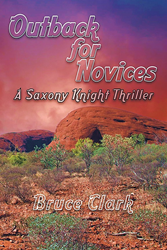 "This crime thriller has it all: a missing politician, terrorists, chases through the Australian Outback, and escalating tension as lives are at stake." - Robert Fletcher, CEO of Strategic Book Publishing and Rights Agency
(PRWEB) May 11, 2017
In both of the author's compelling crime novels, Saxony Knight is a beautiful but damaged young woman, trained in various arts of defence and owing allegiance to no one. She has been innocently drawn into security activities fighting terrorism. This time around, the Australian Minister of Defence goes missing when her helicopter crashes in the Australian Outback. Bernie Stewart is a barracuda of a politician aiming to be Prime Minister. She will allow nothing and nobody to stand in her way. But now she's a kidnap victim, and the only connection to her disappearance appears to be Saxony Knight.
Meanwhile, the perpetrators of a terrorist attack on Surfers Paradise, Australia's beach playground south of Brisbane, are being illegally detained at an outback base for interrogation. Will the minister become a hostage for their release?
A review of the first book by Julie Thompson reads: "From the tongue-in-cheek title to the expertly constructed plot, there is nothing of a beginner about this book, a first for the author. It is a gripping ride, swim, climb, run, and dive through a complex story of Middle Eastern family revenge, espionage, surveillance, and flawed processes and people, played out on one of the world's most glamorous yet seedy playgrounds … It begins with the beautiful but damaged Saxony Knight, who boards a luxury cruiser on the Tweed River and is taken hostage by two young Middle Eastern brothers."
"This crime thriller has it all: a missing politician, terrorists, chases through the Australian Outback, and escalating tension as lives are at stake. It's not only an exciting read, but introduces some fully formed characters who live up to their gritty reputations. We are thrilled to
be the publisher," said Robert Fletcher, CEO of Strategic Book Publishing and Rights Agency.
About the Author: Bruce Clark is a high school English teacher in Brisbane, Australia. "Australia prides itself on being a "lucky country" that has avoided wars and conflicts on its home soil, but terrorism has visited even us. The Glasgow bombing of some years ago had a connection to a doctor on the Gold Coast who was arrested and deported. The content of these novels is unfortunately close to home."
OUTBACK FOR NOVICES: A SAXONY KNIGHT THRILLER (ISBN: 978-1-68181-905-1) is now available for $40.95 and can be ordered through the publisher's website:
http://sbpra.com/BruceClark or at Amazon.com or Barnesandnoble.com.
WHOLESALERS: Ingram Books and other wholesale distributors distribute this book. Contact your representative with the ISBN for purchase. Wholesale purchase for retailers, universities, libraries, and other organizations is also available through the publisher; please email bookorder@sbpra.net.