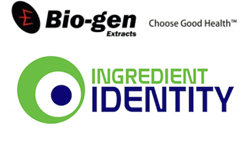 ...set out to develop superior ingredients with proven practices of sustainability...
Karnataka, INDIA (PRWEB) May 09, 2017
Bio-gen Extracts Pvt. Ltd, a privately held specialty ingredient development and cGMP manufacturing company of food and dietary ingredients, custom botanical extracts, food additives and novel oleoresins, has selected Ingredient Identity a preeminent regulatory management consulting firm specializing in the Food, Dietary Supplement and Cosmetic industries, to support their growth and ingredient distribution initiatives throughout North and South America.
"Founded in 2000, Bio-gen Extracts set out to develop superior ingredients with proven practices of sustainability, exceptional quality based in good science, and most importantly to be a company that leads by example in all we do," said Saif Mehkri, Managing Director of Bio-gen Extracts. "Today we have an amazing ingredient portfolio created by a robust clinical-driven approach that leads our ingredient development in Europe, the Americas, South East Asia, Australia and South Africa. Key to our future planning and growth initiatives, is conducting the proper regulatory due diligence of a target market. This is followed by developing clear goals that shape our business and regulatory strategies to entering those markets or introducing new ingredients into existing markets. Moreover, differentiating our ingredients with sound scientific and clinical data is essential to ensuring the success of our customers' products. The know-how of driving such growth by striking the right balance of achieving key business objectives while meeting the compliance requirements optimally, is why we chose Ingredient Identity."
"We're extremely pleased to have been selected by Bio-gen Extracts to support their new growth initiatives here in the US, Canada and throughout several key Latin American countries," said Brandon Griffin, CEO of Ingredient Identity. "When it comes to bringing new ingredients to a given market, there are a number of approaches companies can take, but each carry significant costs, risks and timing considerations. More specifically, there are critical business and regulatory factors to be aware of, and value-chain's that need to be well-defined, so conducting the right level of due diligence is essential to one's long term success. Bio-gen Extracts is a company that truly embodies this management mindset and is committed to ingredient development best practices that drive the overall success of their customers."
Bio-gen Extracts flagship 40,000 sqft Manufacturing & Research facility in Dobaspet, Bangalore is the headquarters of all operations, and maintains certifications in ISO, GMP, HACCP, OHSAS, FSSAI, HALAL and KOSHER. The state-of-the-art production and laboratory equipment allows the company to compete globally in increasingly competitive markets, while maintaining strict safety, quality and labor standards across all products and ingredients. The company currently lists over 30 SKU's and on average develops over seven new or novel ingredients each year.
About Bio-gen Extracts
Bio-gen Extract's is an ingredient development and cGMP manufacturing company based in Bangalore, India, offering support for R&D, Pilot-scale Production, Process Development Consulting Services and Large-scale Custom Ingredient Manufacturing. The company has a rigorous and systematic approach to project management, which is complemented by an experienced staff with excellent technical and practical problem-solving skills. For more information on Bio-gen Extracts products and services, visit the company's website at: http://bio-gen.in
About Ingredient Identity
Ingredient Identity is a preeminent regulatory management consultancy supporting companies through-out the supply chains of the Food & Beverage, Dietary Supplement, Animal Feed and Cosmetic industries worldwide. The company specializes in Quality and Regulatory guidance, cGMP Facility Auditing, FDA compliance, Litigation Consulting, Quality Program Optimization as well as New Dietary Ingredient and GRAS Notifications. For more information, please visit: http://www.ingredientidentity.com