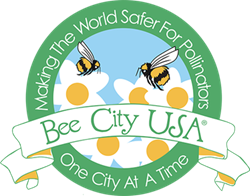 our local residents love to contribute to a healthy ecosystem here on the coast. Supporting our pollinators is essential for our community's long term well being.
Fort Bragg, CA (PRWEB) May 09, 2017
When Fort Bragg became the first Bee City USA® member in the state of California, the small town with a population of just over 7,000 energized their community with a firm commitment to create and nurture habitat for a diverse population of bees as a vital step in preventing the disappearance of bee colonies and increasing the ability to grow food in the rugged coastal community.
When honey bee colonies started disappearing around 2006, Colony Collapse Disorder made headlines since 80% of crop pollination is courtesy of bees and three-quarters of the world's plant species rely directly on the pollinators for reproduction. Both wild bees and honey bees have disappeared rapidly because of habitat loss, inappropriate pesticide use, disease, and parasites.
Fort Bragg's decision to join the Bee City USA® organization means protecting the bees, which includes creating educational events designed to promote public awareness, and reporting to Bee City USA® and the growing network of U.S. cities (44 so far) that share information about activities and programs that really work to prevent the loss of bee colonies nationwide.
"Fort Bragg is ideal," says Lavender Cinnamon of Bee Bold Mendocino. "It is a city of gardeners and gardens: it has a garden club, school gardens, numerous community gardens at nonprofit organizations, the farm-to-school program at Noyo Food Forest and, of course, the Mendocino Coast Botanical Gardens."
Learning How to Protect Bees and the Environment
Local non-profits including Bee Bold Mendocino, Noyo Food Forest, and the Mendocino Coastal Bee Keepers Guild, with more than 200 avid beekeepers all rally in support of community efforts to maintain a healthy coastal ecosystem and care for the local wild bee population. The Fort Bragg Library created a Bee City Read-Aloud Fun Day for children to hear bee stories, enjoy crafts and games and, watch Uncle Jer's Traveling Bee Show.
"I am delighted that the City of Fort Bragg saw the wisdom of becoming a Bee City USA," says Tanya Wyldflower, a local beekeeper and one of the founders of the Mendocino Coastal Bee Keepers Guild. "We are continually told how deeply gratifying beekeeping is and how our local residents love to contribute to a healthy ecosystem here on the coast. Supporting our pollinators is essential for our community's long term well being.
Educating the local community, engaging children in the schools, and working with the Mendocino Coast Botanical Gardens, local garden clubs, community gardens, and nurseries to implement the program is aimed at raising awareness and spotlighting urgent issues like eliminating the use of neonics, a systemic pesticide that poisons nectar and pollen. Local residents will be taught how to plant bee sanctuaries with forage plants and native wildflowers.
Fort Bragg's long term goals include protecting a wide variety of animal species, increasing community awareness of how food grows, improving local food production, helping local nurseries and businesses stock pollinator-friendly native species, alerting the public to the dangers of non-native invasive plants, and teaching the use of non-toxic alternatives for pest control. Urban beekeeping and small-scale bee-related entrepreneurs, including purveyors of local honey will be encouraged. A local business, Thanksgiving Coffee Company, has partnered with Friends of the Earth to donate a portion of sales of BeeBold Coffee. Making sure bees have a safe environment to live in helps to create a more vibrant, educated, healthy community.
The USDA Forest Service and Pollinator Partnership Publication, Bee Basics, An Introduction to Our Native Bees is available online for free. It is a fascinating compendium of information about all the different kinds of bees, their nesting practices, the bee's heritage, habitats, and habits—even the specific body components of different types of bees, and how they function. It also covers floral specialization of specific types of bees. For example, the squash bees pollinate only squash, pumpkin, and zucchini. Honey bees, bumble bees, carpenter bees and even cuckoo bees – they're all in this handy and informative publication. More than 4,000 bee species take care of the 250,000 flowering plant species on earth. Join the conversation about native bees here.
If you want to take action in your own state, click here.