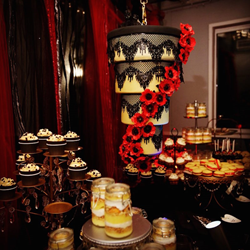 Jensen, Florida (PRWEB) May 09, 2017
Cakestackers, a leading provider of cake stacking products, has made the jump to a fully responsive website with enhanced learning tools for cake creators.
"When we discovered that over 40% of our site visitors were using mobile devices, such as smart phones and tablets, we moved quickly to get a new responsive website in place" said Jana Brandt of Cakestackers. "We took advantage of this upgrade process to add more training videos and examples of multilayer cakes to help our site visitors and customers learn more about how to build beautiful cake creations. We also improved the site navigation and added a new affiliate system so our many supporters can make a commission on referrals."
On April 21, 2015 Google released a new mobile friendly ranking algorithm that rocked the web world. Companies who ignore this trend risk being left behind in search engine ranking and traffic. According to Google, mobile searches have now eclipsed computer searches, and companies who are not following the trend toward responsive websites are falling victim to what Search Engine Land has dubbed "mobilegeddon" (aka mobilepocalypse).
The new Cakestackers website is fully responsive to all mobile devices, including smart phones, tablets, mini-tablets and desktops. It also has a redesigned "Affiliate" system that allows referrers to earn a commission on sales. Navigation has been improved and products refined into new and more easy to find groupings. There is also an enhanced learning section where both novices and professionals can learn how to create many different kinds of cakes, including Hanging Chandelier, Upside-down, Topsy-Turvy, standard Round or standard Square multi-layer cakes. A new photo display of cake stand examples is designed to demonstrate the many ways Cakestackers patented cake stands can be used, such as wedding cake stands.
Known for their high quality and sturdy construction, Cakestackers patented cake stands are used by both professional and home hobby bakers who don't want to scrimp on delivery tools. According to the company website, the purpose behind the patented design was to help bakers deliver their multi-layer cakes in one piece and not in crumbs. In short, what would be the purpose in putting hours or days of effort into a cake design only to have it delivered in pieces due to using an inferior cake stacking system? Products are constructed of sturdy food grade aluminum and stainless steel.
About Cake Stackers
Cakestackers was founded in 2009 on the simple idea that cakes should arrive at their destination in one piece. The result was a patented, re-usable cake stacking system that is unlike any other in the market. Cakestackers is located in Florida and sells it's products globally.