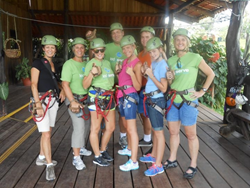 "When a company is committed to putting a percentage of it's business toward the benefit of others, the impact is astounding," stated Vanessa Puleo, Founder of Led2Serve.
Orlando, Florida (PRWEB) May 08, 2017
Led2Serve, a 501(c)(3) non-profit organization, announces an innovative new partnership with Century 21 North Shore Group, New England's leading real estate brokerage firm. This new alliance blends traditional real estate services with intentional community outreach resulting in a substantial impact not only locally, but spanning across the USA and Costa Rica. This effort will engage, create and supply agents with amazing opportunities to support local projects and make a life-changing impact in communities whose basic educational and housing needs are not met.
For decades, Century 21 NS Group has prided itself on giving buyers and sellers the highest level of service in the home buying and selling experience. Now, they have taken on a cutting edge role by providing customized service projects within those local communities. "We're excited to give back to our local markets through purposeful service projects that will positively impact those in need. For us it's not just about business, it's also about making a real difference," shared Jim D'Amico, President of Century 21 North Shore Group.
Century 21 North Shore Group has committed to donating a percentage of every real estate transaction to Led2Serve to support their current and future service projects. Led2Serve will lead their program facilitating the development, coordination, and implementation of local and global projects with a focus on the environment, education and housing.
"When a company is committed to devoting a percentage of it's profits toward the benefit of others, the impact on housing, education and the environment is astounding. Significant, good things happen when you take two great ideas and put them to work for one outstanding cause," stated Vanessa Puleo, Founder/Executive Director of Led2Serve. "Partnering with such a forward-thinking organization will enable us to send more teams, make more community impact, and continue the development of longterm service projects."
Starting later this year, Century 21 North Shore agents, friends and family members will have the opportunity to travel on Service Journeys with Led2Serve to various parts of the United States and Costa Rica. They will utilize Led2Serve's established business model which combines serving others with fun and adventure.
About Century 21 North Shore Group:
Century 21 North Shore Group was established in 1994 and is currently one of the fastest growing real estate companies in the United States. The Company was founded by James D'Amico III who continues to manage the operations with over 20 staffers and 600 agents. The Company currently ranks as one of the Top 10 Century 21 firms in the United States and Top 21 in the world. Century 21 North Shore Group also holds a position in the Power 500 through RealTrends.
About Led2Serve:
Founded in 2009 by Vanessa Puleo, Led2Serve was created to equip, inspire, and mobilize individuals and teams to serve others locally, nationally, and in regions of Costa Rica. Led2Serve's customized Journeys provide the opportunity for team members to give of their time and talents by taking part in meaningful community projects such as building a ramp for the disabled, painting a school, or participating in an environmental clean up effort. Their journey is balanced with fun activities such as zip-lining, hiking, snorkeling and white water rafting. Since Led2Serve is a 501(c)(3) organization, team members pay a tax-deductible journey fee to cover the cost of their travel. Led2Serve coordinates all aspects of travel, from food and lodging to project materials and transportation. Teams travel to the same locations throughout the year bringing groups from schools, churches, non-religious organizations, sports teams and corporations to support established community partners.
For more information contact:
Jim D'Amico
CEO/President
Century 21 North Shore/NS Group
617-680-3464
Vanessa Puleo
Founder/Executive Director
http://www.led2serve.org
407-227-2695