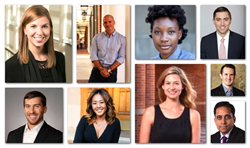 San Francisco, CA (PRWEB) May 08, 2017
Poets&Quants, the pacesetter in business education news and analysis, has published its third annual "Best & Brightest MBAs" feature, which honors 100 of the world's most accomplished, inventive, and selfless full-time MBAs in the Class of 2017.
"This class really defies the stereotypes," says Jeff Schmitt, the staff writer who launched the feature. "You won't find a single sharp-elbowed or self-involved student here. These days, MBAs are the ones who are opening indoor organic farms to cut back water waste and runoff pollution or scaling bakery franchises in Africa so women can better feed their families and communities. You won't find soulless bean counters and slick PowerPoint ninjas on this list. The Best & Brightest are servant leaders. They have a stake and a vision. And they're using business as a means to level the playing field and expand the possibilities."
Such students include Purdue's Lamis Sleiman, who spent over six years partnering with organizations like the United Nations on relief and health initiatives in war-torn Syria and Lebanon. At the University of Chicago, Andrew Ward, a Muay Thai fighter focused on increasing access to pharmaceuticals, organized Common Chromosome, a popular club that fostered honest dialogue between men and women on gender issues. Across the pond, the London Business School's Dr. Nick Deakin spearheaded the most successful EurOut Conference, which doubled attendance and sponsorship and earned intensive media spotlight for the LGBT community in outlets like The Financial Times. At the University of Washington, Vanessa Kritzer was the sole student to be selected by the governor to serve on the school's Board of Regents, effectively making her the voice of 47,000 students on three campuses.
The Best & Brightest MBAs also bring some amazing tales to the table. London Business School's Alana DIgby swam across the English Channel between her first and second years. Joshua Rodriguez, a U.S. Army Calvary Commander, came to the University of Washington with little knowledge of finance. Two months later, he was interviewing with Goldman Sachs for an internship (which ultimately led to a job offer). At IESE Business School, Blanca Gómez-Zamalloa Atiénzar managed to have a baby, launch a business, win a consulting competition, complete an internship, teach dance, and rank among the top students academically before returning to the Boston Consulting Group.
"We didn't just want to celebrate these MBA graduates," adds John A. Byrne, who founded Poets&Quants after serving as Editor-In-Chief at Businessweek.com and Fast Company. "Our hope is that our readers are inspired by these students. We hope they say, 'This person is a lot like me. Maybe I can do this, too!' There are and have been plenty of naysayers out there on the value of the MBA degree and the people who earn it. This group is representative of the amazing quality and exceptional talent coming out of business schools today. The world will be better because of them."
Overall, McKinsey will be the largest employer of Best & Brightest MBAs, hiring eight members from the list. Deloitte Consulting ranked second with six hires, followed by five hires each for Amazon, Bain & Company, and the The Boston Consulting Group. The University of Chicago's Booth School of Business landed the most students on the Best & Brightest list this year with four. Five programs placed three students on the list, including Wharton, Stanford, the University of California-Berkeley, Duke, and the University of Washington. The 2017 also boasted 53 women, 15 military veterans, and 32 students born outside of the United States.
Overall, 59 full-time MBA programs are represented in Best & Brightest, with Harvard Business School being the lone Top 40 program to decline to participate. Poets&Quants accepted up to four nominations per school, with students questionnaires evaluated on extracurricular involvement, tangible academic and professional achievements, and insightfulness of responses to nearly two dozen open-ended questions, which ranged from their biggest achievements to advice they would give to applicants applying to their schools. The answers are published as in-depth student profiles, which are available for each of the 100 Best & Brightest members on PoetsandQuants.com.
The "Best & Brightest MBAs" series will continue into the summer, with Poets&Quants unveiling its top Executive MBAs in June and its MBAs To Watch in July. To read more about these Best & Brightest MBA graduates, go to Poets&Quants.
Media Contact:
Jeff Schmitt
Staff Writer
C-Change Media
(563) 495-2246