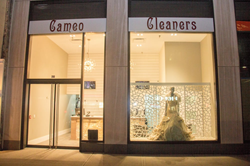 I recently had a leather purse cleaned with grease marks. The bag came out beautiful! It's not cheap but the quality and service was impeccable! I would trust Cameo again in the future with anything I treasure and value. - Gina V.
New York, NY (PRWEB) May 09, 2017
Cameo Cleaners, one of New York's premier couture dry cleaner and garment care services, announced today that it is expanding its renowned tailoring and alterations service. Long considered the best tailoring service in NYC, Cameo is now able to visit clients in their homes for extra convenience. The company has also expanded its offerings for weaving and garment repair.
"So, maybe you gained or lost some weight over the winter. It happens, but what should do about your favorite outfits? There's no need to settle for a different dress that you didn't like as much as the one you wanted. You don't have to throw away your favorite suit just because it no longer fits you," said a spokesperson for the company. "We have six decades of tailoring experience. Let us get your shirts, dresses, suits and pants to fit perfectly for the way you are today."
Cameo Cleaners offers free pick-up and delivery in its vicinity. A tailor is also available to visit clients at home. The company has found this to be a valuable service, especially for elderly customers and busy professionals. Special accomodations for tailoring and alterations in New York City are also available.
Cameo Cleaners operates its flagship store at 280 Third Avenue (near 23rd Street). This store is capable of doing almost any type of cleaning. Services range from cleaning full beaded gowns that need to be done completely by hand as well as restoring leather pieces. Cameo has served its customers continuously since 1958. They are trusted by such world-famous organizations as the Metropolitan Opera, Fashion Institute of Technology (FIT) and the Cooper Hewitt Museum. Other services include care of accessories and handbags, fur glazing, garment restoration, cleaning of delicate interior fabrics such as curtains and Oriental rugs, bed linens and tablecloths.
For more information, visit http://cameocleaners.com.
Cameo Cleaners
280 Third Ave
New York, NY, 10010, USA
+1 (212) 677-3949