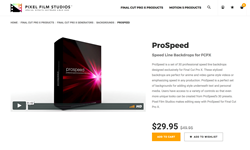 This Final Cut Plugin comes with 30 professional backdrops.
Aliso Viejo, CA (PRWEB) May 07, 2017
ProSpeed is a set of 30 professional speed line backdrops designed exclusively for Final Cut Pro X. These stylized backdrops are perfect for anime and video game style videos or emphasizing speed in any production. ProSpeed is a perfect set of backgrounds for adding style underneath text and personal media. Users have access to a variety of controls so that even more unique looks can be created from ProSpeed's 30 presets. Pixel Film Studios makes editing easy with ProSpeed for Final Cut Pro X.
ProSpeed includes a variety of looping speed backdrops designed for use in Final Cut Pro X. Simply choose a preset from the Generators library and drop it into the timeline. Each preset can be manipulated endlessly in the timeline by squashing and stretching without affecting the speed of animation.
Change the color and light effects in each preset using the provided controls. Users can adjust contrast, brightness, light rays, aura and prism with ease. Additionally, users may enhance backdrops further by applying effects from the Effects browser. ProSpeed includes 7 effect presets so that users can add a plethora of effects including jitter, pixellation, color flickering and many more.
Each preset in ProSpeed includes a distortion effect that can be turned on with a simple checkbox. Once on, users have the ability to move the position of the distortion point anywhere. Next, adjust the radius and amount sliders to adjust the distortion. Users can create brand new looks for each backdrops using this simple distortion layer.
ProSpeed was designed to give users the utmost variety for backdrops in Final Cut Pro X. After applying a backdrop and customizing it to get the perfect look, users can drop text or personal media on top to complete the look. Create stylistic advertisements or emphasize the speed of a runner by utilizing these completely customizable backdrops in Final Cut Pro X.
Established in 2006, Aliso Viejo, California-based Pixel Film Studios is an innovative developer of visual effects tools for the post-production and broadcast community. Their products are integrated with popular non-linear editing and compositing products from Apple FCPX. Apple, the Apple logo, Mac OS X, and Macintosh are registered trademarks of Apple Inc. in the U.S. and/or other countries. All other trademarks and trade names are the property of their respective owners.