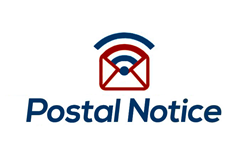 "Adding the immediacy of Postal Notice to the mix is like adding chocolate to your pillow each night. It will be a strong public/private sector partnership."
Phoenix, AZ (PRWEB) May 08, 2017
Expecting an important letter, a check, or an invitation to the ball but don't have time to check the mailbox? There's an app for that. Postal Notice, an automated system that works with and extremely complements existing innovations of the U.S. Postal Service, may be the answer.
Subscribers to Postal Notice can receive an email, text, or recorded phone call when a letter carrier has arrived at the subscriber's mailbox. The whole process is invisible to the letter carrier, so there is no cost or increased labor on the Post Office end of things. In fact, the use of Postal Notice has the potential to generate hundreds of millions of dollars in revenue boosting job security for postal workers.
Every letter carrier is equipped with a global positioning system device that registers each of the more than 155 million mail delivery points in the United States. When the carrier arrives at a subscriber's mailbox, a message is immediately sent with notification of the delivery. The use of social media as a notification tool brings the USPS further into the 21st century.
Postal Notice is a patented system developed by Phoenix inventor Anthem Pleasant. "This is a great service for all Americans. Business owners know the instant promised documents have arrived," he said. "Anxious mothers know letters from distant loved ones are in her mailbox. Rural Americans, frequently some distance from their mailbox, know when the carrier has visited their location and the elderly and less active, who often need assistance for their trip to the mailbox, can make an informed choice to retrieve their mail."
Pleasant has proposed the Postal Notice system to USPS headquarters as a cost effective subscription service to all postal customers. Postal Notice works in conjunction with the USPS' Informed Delivery service, which scans each letter at the beginning of the day and sends a notice early in the day to its subscribers that a letter is out for delivery. Postal Notice takes it a step further by telling subscribers the exact moment the letter carrier has arrived at their mailbox.
"Informed Delivery is an effective element of the USPS' service to its customers," Pleasant said. "Adding the immediacy of Postal Notice to the mix is like putting chocolate on your pillow each night. It will be a strong public/private sector partnership."
Under the proposed plan, the USPS would charge a minimal monthly fee of $3.00 for individuals and $7.00 for businesses for the service. Under this plan, the USPS could generate more than $700 million in revenues annually based on only 10 percent subscriber participation. A companion USPS customer service program named MoverSource allows the organization to receive revenue for additional services. That program generated more than $300 million for the USPS since it began in 2011.
Postal Notice also has the potential to function as a standalone service, further enhancing the effectiveness of mail delivery throughout the United States.