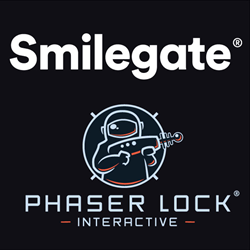 "We are excited to partner with Phaser Lock Interactive, one of the pioneers in the industry. PLI has shown innovative ways to create user-friendly interaction in virtual reality while also creating compelling game experiences." Joonho Sung, Group COO
Austin, TX (PRWEB) May 09, 2017
Austin-based virtual reality studio Phaser Lock Interactive has announced a long-term strategic partnership with leading Korean game studio Smilegate to develop a future, yet unannounced VR game title. This partnership announcement will be the first of multiple rounds of investment in the future infrastructure and growth of Phaser Lock Interactive.
Smilegate will work closely with Phaser Lock on the vision and production of the VR game, as well as the handling, publishing and distribution.
"We're excited to work with an accomplished industry veteran like Smilegate," says Michael Daubert, CEO of Phaser Lock. "They understand the Asian entertainment market better than anybody else, as evidenced by the overwhelming success of their game, CROSSFIRE, the most played online First Person Shooter game in the world with six million concurrent players. We couldn't ask for a better strategic partner to expand, especially with the lightning fast growth of VR we're seeing in the Asian market."
Phaser Lock is well-known for being one of the first developers with a successful, fully-realized VR game concept. Titled Final Approach, the aircraft-themed strategy and management title for HTC Vive and Oculus Touch, gamers play as an air traffic controller towering over miniature worlds full of varied aircraft. Players land planes, complete rescue missions, solve puzzles and other tasks in both a giant "God Mode" overlooking the world and up-close "Toy Mode" on the ground. The company later released a seated version of the game for HTC Vive and Oculus Rift, Final Approach: Pilot Edition.
Phaser Lock recently released their second VR project -- Twisted Arrow -- a fast-paced, arcade-style first person shooter that pits the player, armed with a bow and arrow against a city overrun with an evil, high-tech paramilitary force.
Smilegate saw the potential of Phaser Lock from the success of Final Approach and came to the studio with the intention of expanding their VR offerings and making an investment in the growing space.
"With Smilegate's support, we feel we can make an even bigger impact on the VR market, creating a best-in-show experience nobody has been a part of before," said Daubert. "We take pride in putting out high quality VR content. Our partnership with Smilegate will allow us to do that in new ways, and to reach an entirely new audience with our work."
"We are excited to partner with Phaser Lock Interactive, one of the pioneers in the industry. PLI has shown innovative ways to create user-friendly interaction in virtual reality while also creating compelling game experiences. PLI is our first foray into a virtual reality global partnership initiative. We will continue to explore and identify industry leaders to aggressively facilitate our expansion into the new, emerging industry," said Joonho Sung, Group COO, Smilegate.
Phaser Lock plans to release updates on their project with Smilegate in the coming months.
For more information on the studio, please visit: http://www.phaserlock.com/. For the full press kit, visit: https://www.dropbox.com/sh/hhbzo77tmsema79/AACQ-eenyHkVCD5-Vgm_A9m6a?dl=0.
Follow Phaser Lock Interactive:

Press Contacts:
Phaser Lock Interactive
Michael Daubert-CEO/Chief Creative Officer
Tel: +1-512-800-0005, Email: mdaubert(at)phaserlock.com
Courtney Carlson, Media Director
Tel: +1-512-800 0005, Email: courtney(at)phaserlock.com
Smilegate
Kay Lee, PR Director
Tel: +82 31-600-8283, Email: hklee(at)smilegate.com
Jiwon Hong, PR Manager
Tel: +82-31-600-8364 Email: jwhong(at)smilegate.com