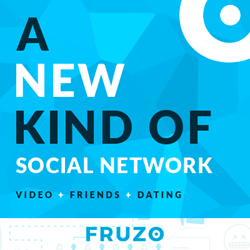 This app is unlike any other in the Google Play Store with users able to take advantage of our unique video chat to establish a connection with someone in a way that text chat just cannot achieve
Los Angeles, CA (PRWEB) May 09, 2017
Android users can finally download video chat and dating social network, Fruzo, onto their devices after the app launched on Google Play this week. Since launching on iTunes in September of last year, Fruzo has enjoyed unprecedented success due to its unique concept of combining live video chat with online dating and social networking. Unlike other one-dimensional social apps such as Badoo and Tinder, Fruzo offers users the opportunity to chat live with potential matches via the camera on their smartphone and tablet. The app also incorporates a social networking element with friend's lists, the ability to follow other users, and a powerful search function to discover users with similar interests.
Addressing the problem of fake and robot profiles on other dating apps, Fruzo uses live video chat so that users know the person they are talking with is whom they say they are on their profile. Video chat also opens up a whole new exciting way to connect with people for the first time, eliminating flat back and forth text conversation and replacing it with the thrill of meeting someone face to face. Face to face encounters makes it much easier for users to find people whom they have a strong connection with, whether that involves making new friends or finding a hot date for the weekend.
"We are delighted to announce the release of Fruzo for Android users", said Fruzo Founder, Richard Fox, "This app is unlike any other in the Google Play Store with users able to take advantage of our unique video chat to establish a connection with someone in a way that text chat just cannot achieve".
Fruzo has received excellent feedback and reviews since launching on iTunes last year, featuring in respected publications such as KillerStartups and receiving an average 4-star rating on iTunes. The launch of the Google Play app opens Fruzo to a wider audience than ever before, and as people continue to search for the next great app to socialize on their mobile devices, Fruzo is expected to reach even greater heights shortly. Interest in Fruzo has exploded since September of last year according to Google Trends with the web site shooting up the global site index according to Alexa.com. This data indicates that the future of dating and social networking is here, and its name is Fruzo.
About Fruzo
Fruzo is a free, easy to use social networking and video chat service where people can socialize online. Fruzo allows users to create an account using their Facebook credentials and chat with other people via webcam, create friends lists, and follow other users from around the world. Users can connect with new people either randomly via the video chat or by searching for friends using some filters including sex, country, city, and age. The service is available to use on both web browser and mobile application, providing users with the ability to chat on the go.