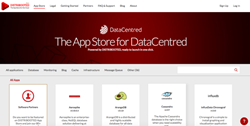 DISTRIBOOTED - The App Store for the Cloud!
Belgrade - Serbia (PRWEB) May 10, 2017
The App Store can be accessed at http://datacentred.distribooted.com .
DISTRIBOOTED the independent provider of Cloud App Stores has launched it's dedicated App Store for DataCentred. DISTRIBOOTED's App Store features a range of over 80 Applications that can be launched with a single-click into DataCentred's Cloud.
DataCentred is the first and only UK-owned and operated public OpenStack cloud validated for interoperability by the OpenStack Foundation.
Speaking of the launch DISTRIBOOTED CEO, Bal Balaji said "Our aim is not only to significantly decrease systems management costs for our customers, but to allow our customers to enhance their data privacy and sovereignty by leveraging regional Cloud Providers such as DataCentred".
DISTRIBOOTED targets Consumers and Businesses as well as the Public Sector markets with an application catalog that includes popular end-user applications such as ODOO CRM, Wordpress, Minecraft, the Slack alternative Mattermost as well as database software such as InfluxDB, ArangoDB, Apache Cassandra and CockroachDB.
DISTRIBOOTED also provides a Server management interface where customers can centrally configure all deployed applications as well as Start and Pause instances saving them 100s of hours of systems management time.
Nick Jones, Senior Cloud Engineer at DataCentred, said:
"Interoperability is one of DataCentred's key tenets and we have worked hard to ensure that we were one of the first companies to successfully pass all of the OpenStack Foundation's tests. By leveraging OpenStack and reinforcing our commitment to innovation and interoperability, our customers will receive the best possible service which guarantees confidence in terms of compatibility."
About Distribooted:
DISTRIBOOTED is an Application and Cloud Management Platform which aims to provide a single-pane-of glass for Deployment, Configuration, Management and Monitoring of Server Applications across multiple Cloud Providers.
DISTRIBOOTED is led and backed by Serial Entrepreneur — Balaji Bal who pioneered the concept of the Mobile App Store with SurfKitchen. DISTRIBOOTED is built by the engineering team behind GridMine — the first Cloud Independent Big Data Hub. DISTRIBOOTED is a product of Bal Lab.
DISTRIBOOTED is not affiliated with DataCentred or any of the other Brands mentioned.
About DataCentred:
DataCentred are the leading UK owned and operated OpenStack public cloud provider, delivered from our own tier 3 data centres. Our public cloud provides the full range of Openstack features and access to the entire OpenStack API.