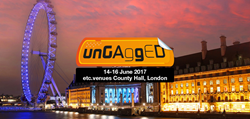 London, United Kingdom (PRWEB UK) 30 May 2017
The SEO and digital marketing industry has become more tight-lipped and secretive over the years, meaning the same tactics and strategies are being shared at events. With a blanket of rules and restrictions being placed on the speakers, it is becoming increasing difficult for the individuals who have achieved success to share the methods behind them.
That is until now. UnGagged is a new league of digital marketing event that aims to subvert this trend and revolutionise the way internet marketing methods are learnt and practised, offering its attendees actionable methods and real world strategies.
Previously the headline event for London Technology Week 2016, UnGagged London returns this June for a 2-day conference on 15-16 June and preceded by a series of 1-day Masterclasses on 14 June.
By sticking to UnGagged's unique no recording, no fluff and no sales pitches policy, the 25 world-class speakers gathered in London are able to delve deep into the unexplained world of SEO, disclosing their personal journeys and providing attendees with real-life examples of their successes and failures. Giving the audience off-the-record and unbiased advice and strategies that will take attendees' digital marketing knowledge to another level. All exclusively shared with the event's walls.
"UnGagged London has definitely been one of my conference highlights this year. I went to most of the sessions and was amazed by the openness and willingness to share "real" experiences instead of just boring, often heard theories. I'll definitely be back!"
Marcus Tandler, Co-Founder of OnPage.org
The UnGagged founders started the series of events after discovering a significant gap in the market, where SEOs and Digital Marketers were missing the opportunity to share their candid tips and advice with fellow entrepreneurs and leaders, in a space of complete transparency and exclusivity. Unlike other conferences, UnGagged restricts the capacity of its attendees, as every person is made to feel valued as opposed to being lost in the masses; an environment that has been described as a "private group of experts sharing their candid tips and tricks and having open discussions on what works" by Terry Godier, Founder of Jupint.
The networking opportunities available at UnGagged are endless. Due to the relaxed, friendly nature of the event, the attendees are open about what works and the steps they can take to make money. One of the keynote's for London 2016, Bas van den Beld (Founder of State of Digital) comments, "The networking itself was really good, talking to people outside of the rooms can give you even more information than inside of the rooms." Previous companies who have attended UnGagged, include Bing, Co-operative, Countrywide, JD Sports, Microsoft, Majestic, House of Fraser, O2, Searchmetrics, Social Chain and more.
The 'un-gagged' principle enables the expert speakers to cut the nonsense, sales pitches and hidden agendas in their content; as they are assured no information discussed will appear in a YouTube clip or eBook before the day is over. The point? To give attendees actionable methods, broaden their knowledge and provide them with the tactics to boost their ROI; creating a competitive edge only an unconvention could produce.
This year, etc.venues County Hall welcomes UnGagged to their newly opened and developed conference venue situated right in the heart of London. Exquisite views of the River Thames, Parliament House, Westminster Bridge and the London Eye are only a few of the fantastic features this venue offers its attendees. Topics covered at UnGagged London include SEO, technical SEO, digital marketing strategy, content marketing, links, social, legal, reputation management, CRO and public speaking.
Tickets are still available. Anyone interested in attending this event should book now to avoid missing out.